We have a great fondness for Store Mosse, mainly because it was there that we first went hiking in Sweden. It turned out to be a magical place to which you can successfully return many times. That is why I decided to prepare a post in which I will tell you more about this park. At the very bottom you will find information about other Store Mosse entries.
Description of Store Mosse National Park
Store Mosse is the largest peat bog in southern Sweden that has been formed over the last 8,000 years. The bogs cut through forested dunes, called "rocknar". Thanks to the proximity of the Brokullen and Långö Mosse reserves, the protected area in this area is almost 8,000 hectares.
The history of the park dates back to 1905, when it was decided that the area around Lake Kävsjön should be protected because of the habitat of birds that are rare outside of the north of Sweden (including broad-billed sandpiper and jacksnipe). Gradually, the conservation area was extended to the surrounding areas, until finally Store Mosse became a reserve in the 1950s, and finally received the status of a national park in 1982.
Gow to get there?
There are several ways to get to Store Mosse. The easiest way will be, of course, by car – there are several entrances here that you can reach. If you are coming from the E4 from the south, take exit 84 and from the north take exit 85. If you are coming from road 26, take the exit towards Gnosjö.
You can also reach the park by train – the north-south main line to Alvesta with a change to the east-west line Kalmar-Värnamo-Göteborg. Get off at Värnamo or Gnosjö and continue by bus from there.
Speaking of buses, it goes directly to the entrance right next to the Nature Center (Naturum). It is line 242 between Värnamo and Gnosjö (stop "Store Mosse Nationalpark").
For lovers of cycling trips, there is also the possibility of getting to the place by bicycle path running from the village of Kävsjö to the village of Hädinge. It passes through Store Mosse park, leading to Naturum. All trails open to visitors are also open to cyclists, with the proviso that pedestrians always have priority.
Flora and fauna at Store Mosse
The area of marshes and peat bogs at Store Mosse only superficially looks uninhabited and quiet. In fact, this place is teeming with life and is home to many species of animals. During the trip, you can come across cranes, whooper swans and common snipes. The lucky ones can meet white-tailed eagles and golden eagles, which are especially numerous in the winter season (from November to March), when they receive food at special stations (they are under the surveillance of cameras and you can watch the live transmission at this link). A special place is the Kävsjön lake. It is surrounded by special protection and it is forbidden to leave the trails here due to the habitats of rare birds.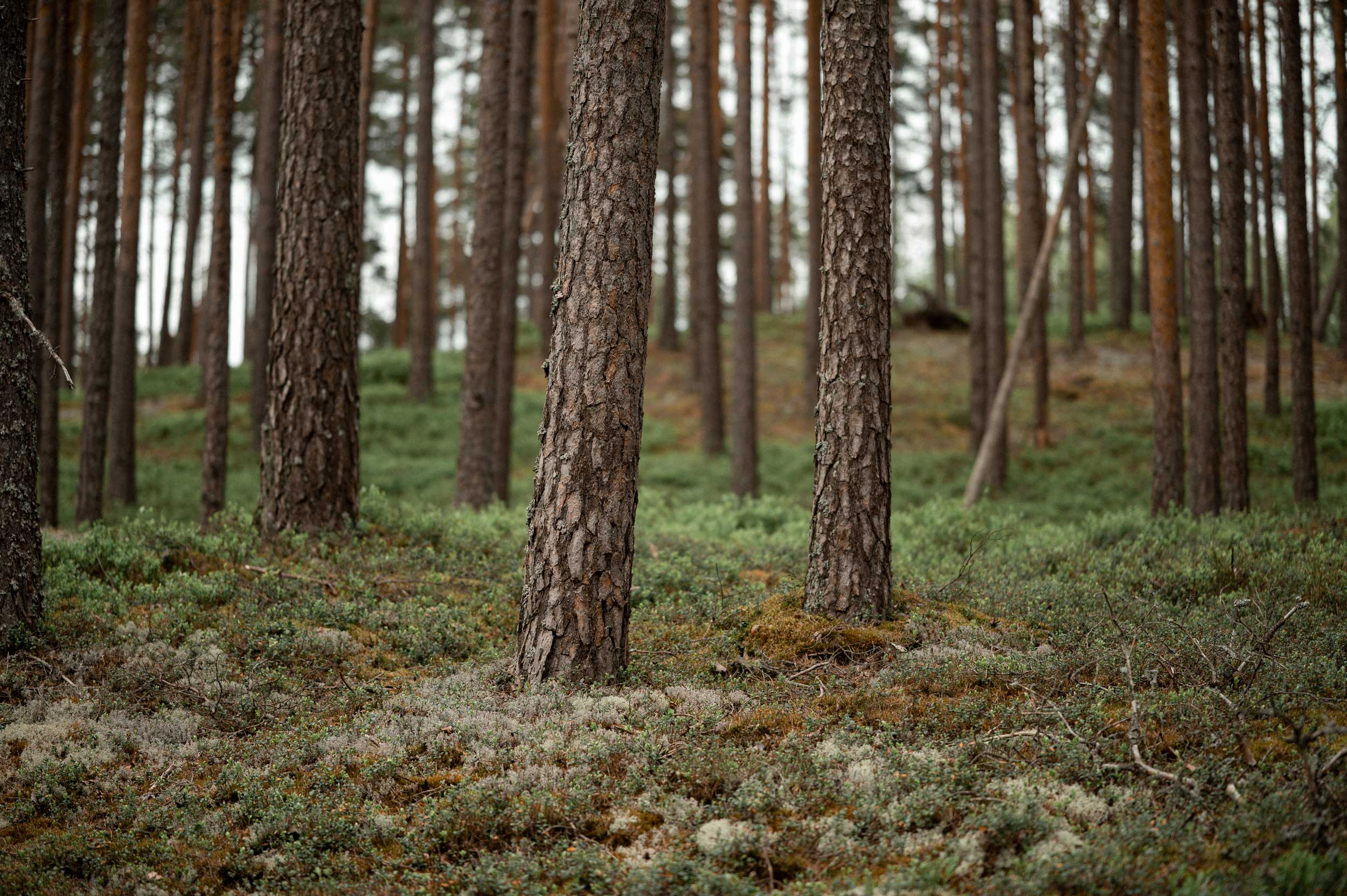 Moose, roe deer, foxes and badgers also live on the grounds of Store Mosse. Curiosities include the presence of as many as 25 species of dragonflies and the rare Geyer snail.
Among the plants, in the National Park Store Mosse there is no shortage of sundews (3 species – it has always been my dream to see them in nature) and sphagnum (over 20 species). In the bogs you will also come across pine trees, heathers, and in the linden-rich areas of Björnekullakärret, broad-leaved cottongrass and butterworts grow.
Organized trips
In the summer, Store Mosse Nationalpark prepares various types of organized activities, both in the park itself and inside the Nature Center.
Thematic hiking
In July and August, Naturum organizes short themed walking tours of approximately 60 minutes every Wednesday. The tour is free (sometimes with a small reimbursement for materials).
Every trip is different. The topics for 2021 included a walk in the footsteps of dragonflies, saving bees, a lecture on edible and medicinal plants, and many others.
The exact schedule, meeting point, topics and necessary equipment can be found on the Store Mosse website.
Snowshoe expedition
During the summer season, on Tuesdays and Thursdays, snowshoe walks are organized in the otherwise inaccessible part of the Store Mosse moors. Where there are no paths and bridges, a completely unexpected adventure lurks.
There are three different routes – an hour, for beginner racket users and two 4-hour routes. Longer routes also include lunch and coffee along the way. The price for the introductory tour is SEK 100 per adult (up to 12 years old), and the others cost SEK 650. Children under 12 years old enter for free when accompanied by a paying adult.
The exact schedule, meeting points and information about attractions along the way (such as swimming in the lake ;)) can be found on the Park's website.
Store Mosse Nature Center
In the Nature Center in the park there is an exhibition depicting the 14,000-year history of the formation of swamps and peat bogs. In addition to the exhibits, the beautiful landscapes of the Park can be admired from the Centre.
The exhibition can be visited free of charge on your own, with a 10-minute guided tour (on the hour). A 45-minute guided tour costs SEK 30 per person (with a minimum group size of 10).
Hiking trails
The park has about 40 kilometers of landscape-diverse hiking trails. You can choose from 9 trails of various lengths, located in different places of Store Mosse.
The choice of the trail can depend on the amount of free time and the place where you enter the park. All routes are properly prepared – on swampy areas there are wooden footbridges and bridges that make it easier to walk over wetlands.
Some of the routes and around the Nature Center are adapted to the needs of disabled people (including those who use wheelchairs). If you want to check the exact information on this, please click here.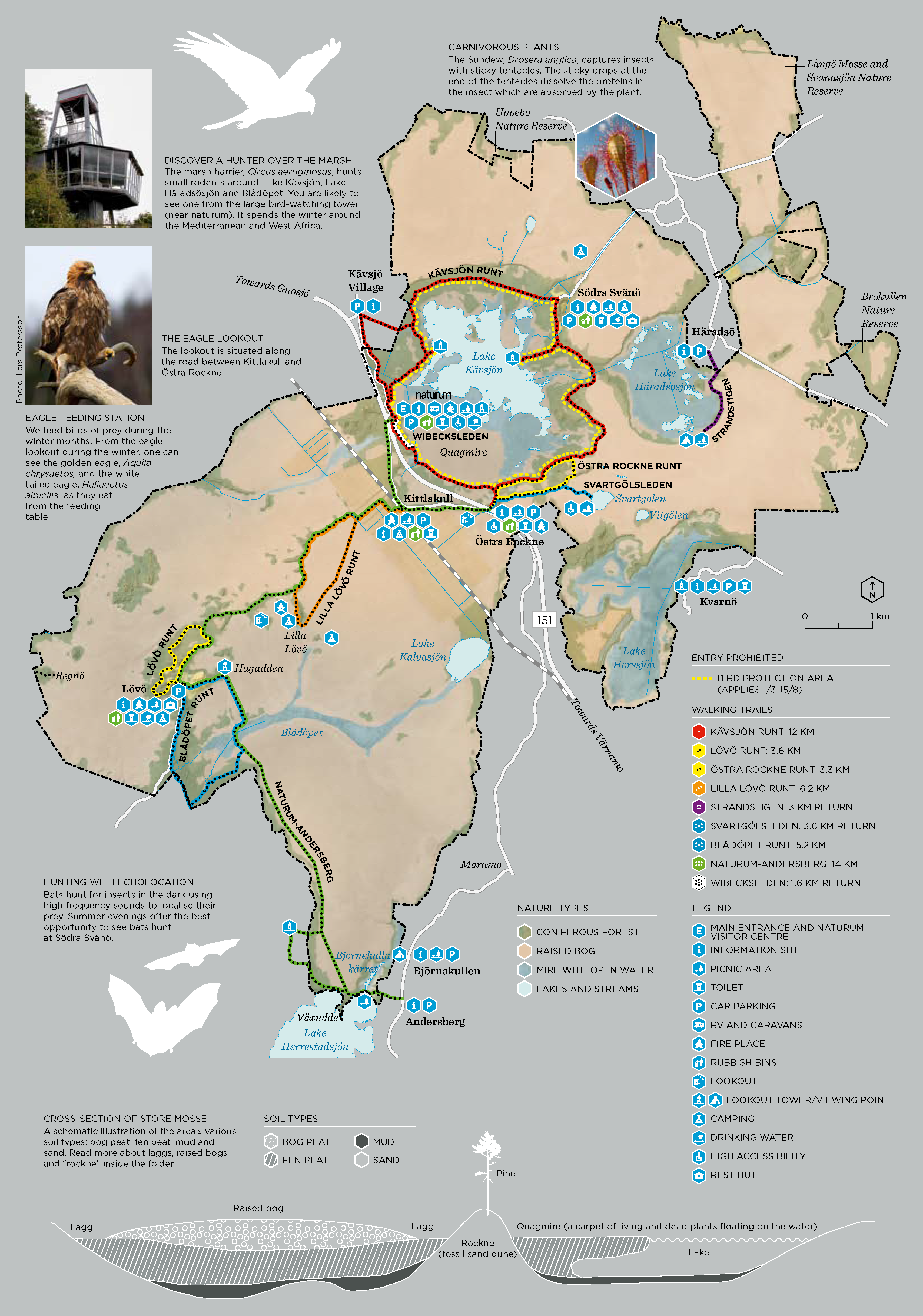 Relax on site
Store Mosse is a good place not only for nature lovers and hikers. People who like to relax outdoors will also find something for themselves. Picnic tables are located in many places in the park, where you can sit down with your own provisions, and even light a fire in designated places. (Note! Except for Lövö and Svänö, where there are log yards, you must bring your own wood for the campfire – smoking with twigs found in the Store Mosse grounds is not allowed).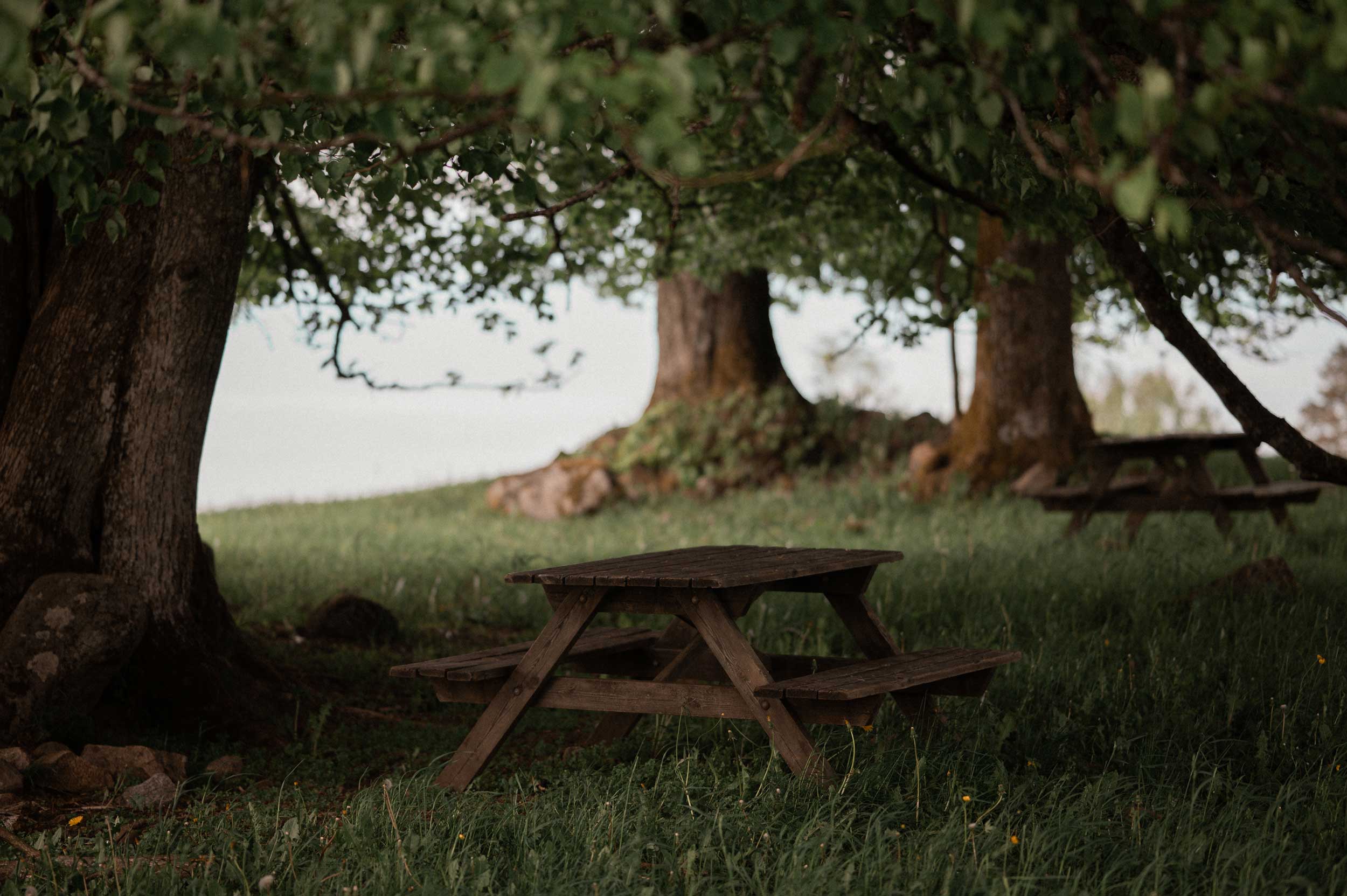 Acommodation
On two moraine hills – Lövö and Svänö – there are houses left over from farms founded in the 17th century. Currently, they serve as a hostel where, for a fee, you can spend the night and treat them as a starting point for the trails running in the Store Mosse Nationalpark.
Both facilities do not have electricity or running water (there is access to wells and outdoor toilets). They are heated by wood-burning stoves. There are 16 beds available in the hostel in Lövö, and 24 beds in Svänö.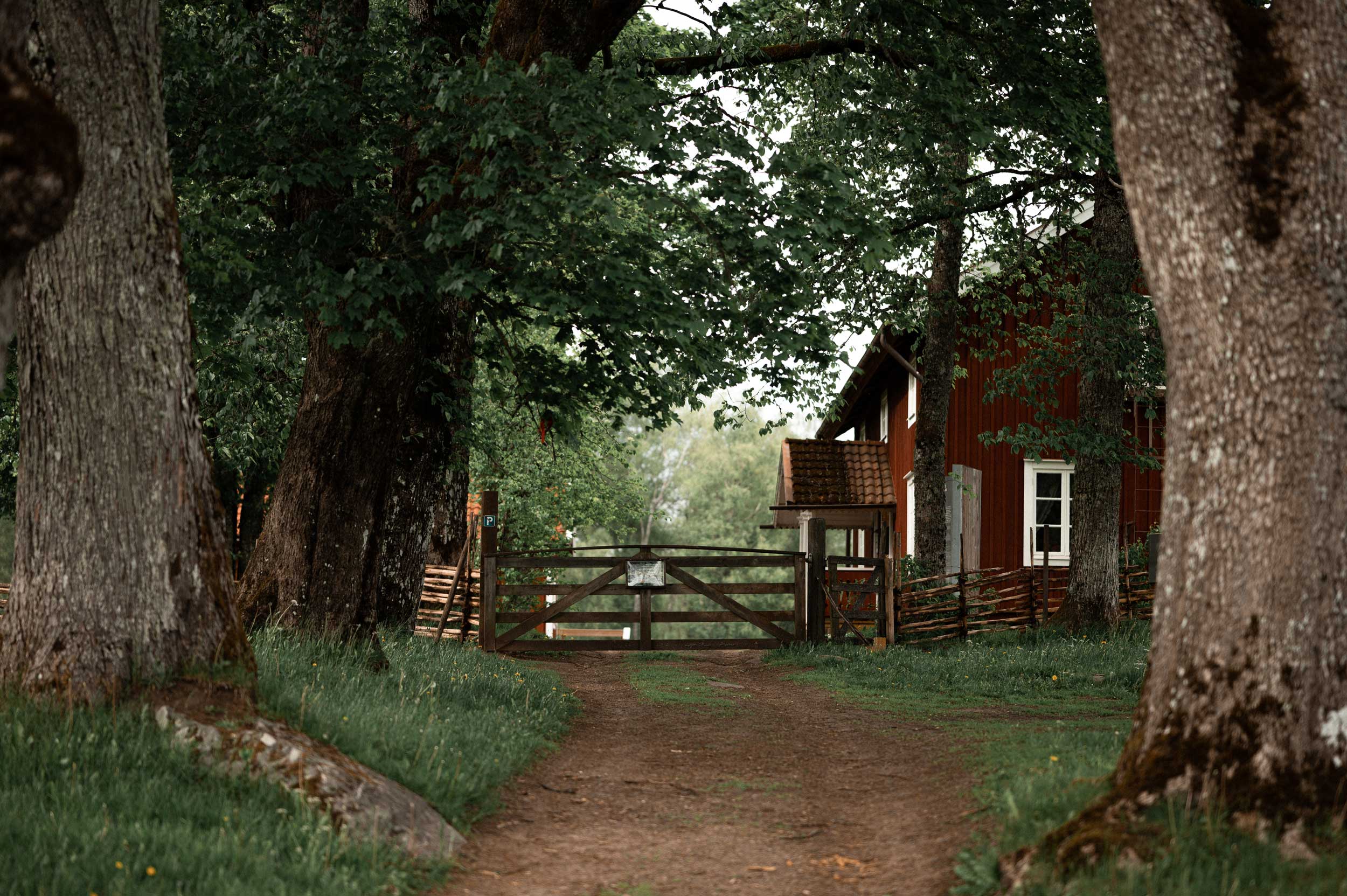 You can make a reservation by phone at +46 72 227 78 22 or by e-mail – info@vandramedandre.se. You can also book with Booking.com: Svänö, Lövö.
There are also specially designated places to pitch tents in Store Mosse. Camping in one place is allowed for a maximum of three days. In addition, it is possible to stay overnight in motorhomes but from 00:00 to 06:00 they must park in designated places (13 spaces available in the main car park).
My impressions
Park Store Mosse captivates with beautiful, wild nature. During our first trek, we had the impression that we were moving between wild Swedish forests and Tanzanian savannah landscapes. Peace and quiet allow you to get in close contact with nature, relax and look inside yourself.
This national park is also an extremely photogenic place. The landscapes delight at every turn and there is something magical about this place that makes you come back and come back and come back.
We recommend everyone to visit the Store Mosse National Park. If you do not know what form of sightseeing to choose or which route to choose, check out the blog posts with reports.
Important information
Address: Store Mosse Nationalpark, 330 33 Hillerstorp
Website: Click here
Google Maps coordinates (to Naturum): 57.299864935906406, 13.929234629237566
Other entries about Store Mosse