Finding a good place to eat can be challenging, but don't worry – I'm here to help. While visiting Ystad, don't hesitate and step into Pizzeria Gusto if you feel like eating a great pizza!
Pizzeria Gusto – location
The restaurant is located nearby the city centre, just 200 meters from Stortorget. It makes it the perfect spot for dinner with friends after a long walk among the charming streets of Ystad and visiting other main locations in the city.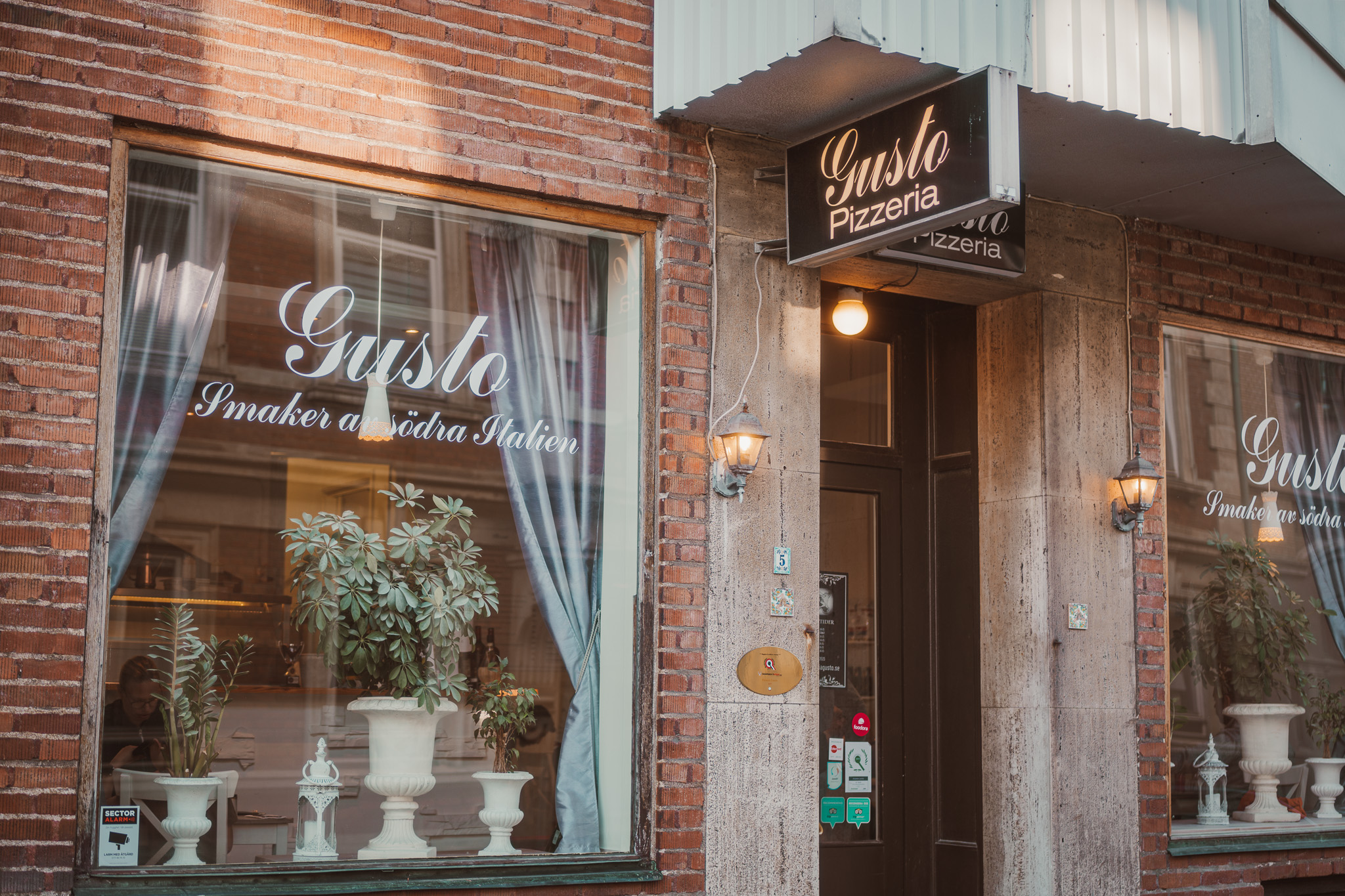 Menu
Pizzeria Gusto offers a broad range of pizzas – all on a thin crust with well-baked borders. You can eat there also four different salads. Unfortunately, there is nothing for pasta lovers like me (although pictures on Google Maps and the website may suggest differently).
Among drinks, you can choose from different wines, Italian beers and some soft drinks like Coca-Cola.
Prices of all pizzas vary between 100kr and 140kr, salads cost 95kr-135kr. Coca-Cola costs 20kr for a 330ml can. Wines cost between 75kr and 95kr for a glass.
Food review
We decided to try three different pizzas. My choice was Salamina with Salame Napoli, Tom decided to try Al Tartufo with ricotta, mozzarella, truffle and champignon cream, truffle salami mushrooms and arugula. The third one was Gusto with parma ham, pesto, parmesan, olives, arugula and cherry tomatoes.
Pizzas are quite big – I couldn't finish mine on the spot so I took half of it home. All three pizzas had a good, Italian quality. For a moment we felt like on holiday in Italy, not Ystad. You definitely feel the owners take good care of the ingredients.
My pizza was very tasty, with heavily seared edges and good quality ingredients.

Tom Pikus
If I have to rank pizzas in our order, in the first place I'll put Al Tartufo as I'm a huge fan of truffles, and second place goes to Salamina – it was quite delicate and less pronounced in taste. Gusto looked impressive but as I don't like olives, in my private ranking it gets the third place.
Good to know
Pizzeria Gusto is a quite small place and there's not so much space for guests. Take it under consideration while visiting, especially during the high season in summer. It's safe to call and book a table for a specific time. We were lucky and managed to eat but had limited time due to a booking that was about to arrive soon.
The real gem of this place is service – inside there's a friendly and family atmosphere. Everyone wants to make sure you feel great during the visit and like the food you ordered.
While planning your visit, remember about the limited opening hours. Pizzeria Gusto is closed on Tuesdays and open only from 4 p.m. to 9 p.m. on other days. For us, it was quite difficult to plan the whole trip but we were determined to try their pizza so we changed our plans. I'm aware not everyone could have this possibility so have this in mind.
Summary
Pizzeria Gusto is a great choice for every pizza lover. Compared to other pizzerias, they have really attractive prices and high-quality of ingredients at the same time. Try by yourself, you wouldn't be disappointed. Let me know how did you like the visit!
WWW: pizzeriagusto.se
Address: Klostergatan 5 Ystad 27134