Last price updates -16/01 2023
This is informational post about an overland travel by car to Sweden – through two bridges in Denmark and famous Öresundsbron.
When we bought the car in September 2018 and we were no longer condemned to driving a 23-year-old family heirloom, we decided for the first time to go on a route longer than to the airport in Poznań. We couldn't do otherwise – we went to Sweden by car.
To bring the subject closer – we are planning to emigrate to Sweden as soon as possible and at that time almost all of my husband's family lived there. We decided to get together on the road, take the dog and finally everything we want, not what the airlines will allow, and have a great adventure.
Our initial plans were to travel by ferry, but the prices put us off (we wanted to go immediately – we had a university break on November 1-2 and the long weekend that followed). We looked at the routes Gdynia-Karlskrona, Świnoujście-Ystad and Rostock-Gedser (departing from Germany). Finally, we choose the land route. And that's how it happened.
What is the car route to Sweden like?
We drove from Wrocław (Poland), because we lived there and I will base all my calculations on the cost and length of the route on this. We chose the shortest route in terms of kilometers to travel – only 1125 (we went to Croatia more at once and survived :D)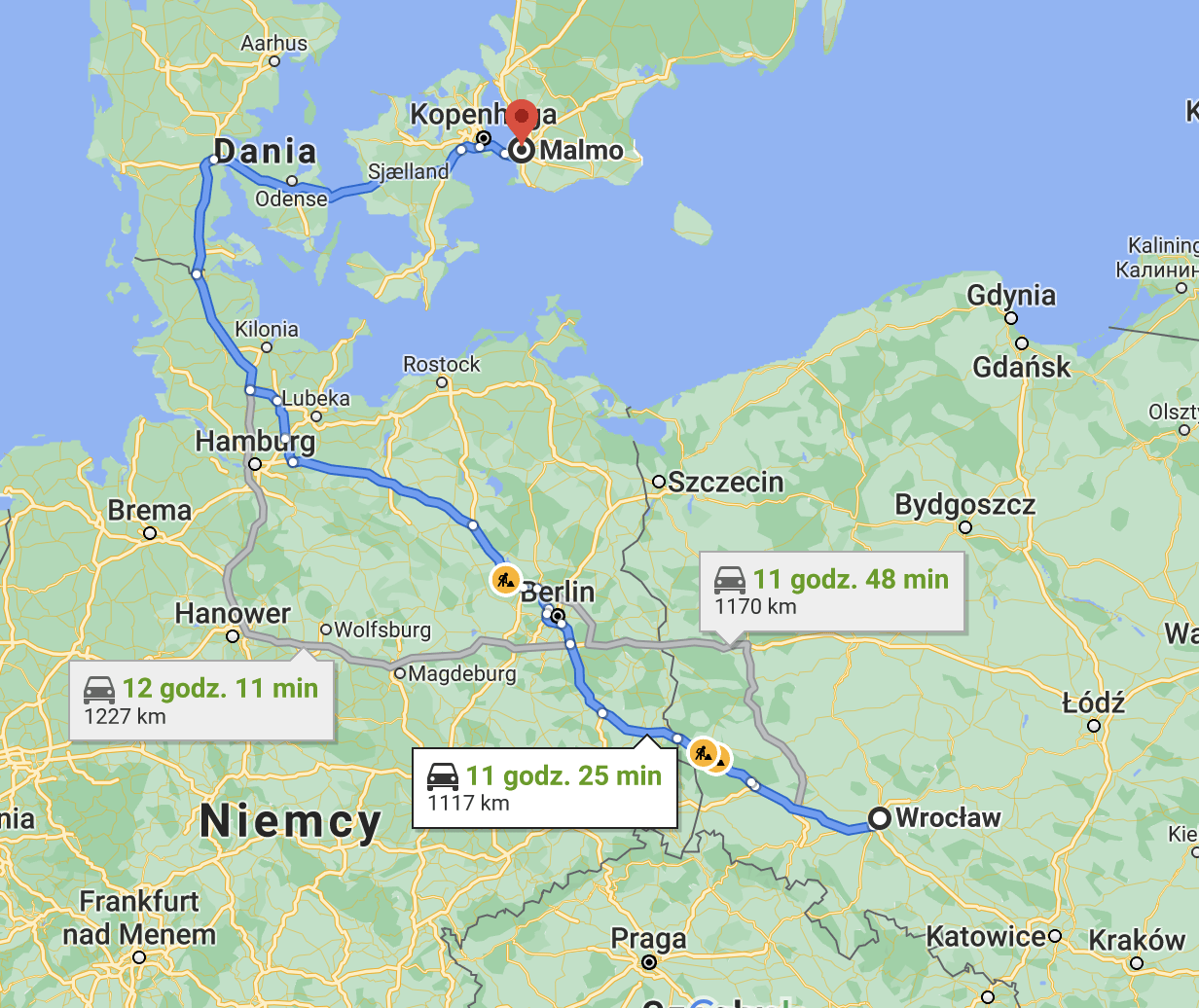 Google showed that the route takes about 11 hours – it seemed to us not much. Our only concern was how our dog would react to such a long route. He had the whole back seat at his disposal, where we put a special mat for transporting dogs, he was fastened with dog belts, but he was free to move around the back seats. It turned out that our fears were completely unfounded – Homer slept the entire route and was indignant that he had to get out of the car every few hours because "hoomans" told him to.
We drove to Sweden by car for about 13 hours, because every 4 hours we stopped for a short stop to stretch our legs, walk the dog and take turns driving.
By car to Sweden – fees on the route
Although all highways along the way were free, the overland route includes two bridge crossings that are already tolled.
The first bridge you cross, Lillebælt, connects the two parts of Denmark and is free. A bit further is its bigger brother – Storebælt. This is another Danish-Danish crossing and the fee is 270 Danish crowns (about 170 PLN) one way. The toll is paid in cash or by card at gates similar to those found on toll motorways.
Another paid part of the route is Øresundsbron connecting Danish Copenhagen with Swedish Malmo. A one-way ride costs 610 Swedish crowns when paying online (about 254 PLN), but here we saw a great deal that allowed us to significantly reduce the cost of the journey.
The Øresundsbron bridge offers the BroPass loyalty program, which costs 495 Swedish crowns (about 206 PLN) to join. Participation in the program reduces the cost of crossing the bridge to 268 Swedish crowns (about 111 PLN) one way, and additionally allows you to use special gates that read our license plates and let us through without waiting. This option is only available online.
Using BroPass also allows you to reduce the price of traveling over the Storebælt bridge – with an active BroPass contract for our license plates, we will pay only 192 Danish crowns (approx. 121 PLN) for the bridge
With BroPass, you pay SEK 1031 and DKK 384 (approx. 672 PLN in total) instead of SEK 1,220 and DKK 540 (approx. 835 PLN in total) for a one-time trip, and the contract is valid for one year from the moment you join. Each subsequent trip will cost you less than the BroPass cost if you travel during the program period, resulting in further savings.
Was it worth it?
Some, hearing about our expedition, tapped their foreheads and said that we were abnormal. Why go that route? For us, however, it was one of the best adventures in life and for several reasons.
First of all, for the first time we went on such a long journey by car alone – we were not accompanied by anyone, except our dog, which was also a great experience, because we treat him a bit like a small child to whom we want to show the world.
Secondly, crossing the bridges (especially the Øresundsbron) is an unforgettable experience. Not only because of the majesty of the entire structure (the entire passage is 16 km long, of which the bridge itself is 7.8 km long, and the exit tunnel from Denmark is 3.5 km long – there are also trains along the entire route that pass you from time to time time), but also because of the breathtaking views.
We were later envied by everyone who saw the photos and recordings. The weather was perfect, the sun was beautiful, which added to the charm of the whole adventure. If you have the opportunity to go to Sweden by car – we definitely recommend it.
---
On the journey, we were bravely accompanied by the Revolut card, which helped us avoid unfavorable currency conversions and commissions for card payments in a foreign currency. I will write more about this card soon. I highly recommend this trip to everyone at least once in their life. Unearthly sensations guaranteed.
[booking_product_helper shortname="wyszukiwarkadopasowujcasipl"]
The accommodation search engine contains Booking.com affiliate links
Useful entries