I have already written about traveling from Poland to Sweden entirely by land. Inspired by your messages on Instagram, I decided to also describe what a ferry trip looks like.
We usually travel with Stena Line on the Gdynia – Karlskrona line, hence most of the descriptions apply to this carrier and this route. We also have experience with Polferries lines (Świnoujście – Ystad). In the future, I plan to test other carriers and devote separate, summarizing entries to them, as well as expand this one 🙂
Available routes and carriers
On the route from Poland to Sweden, several carriers operate on different routes. The most common are Stena Line (Gdynia – Karlskrona) and Polferries (Gdańsk – Nynäshamn, Świnoujście – Ystad), but there are also connections offered by Unity Line (Świnoujście – Trelleborg, Świnoujście Ystad) and TT-Line (Świnoujście – Trelleborg).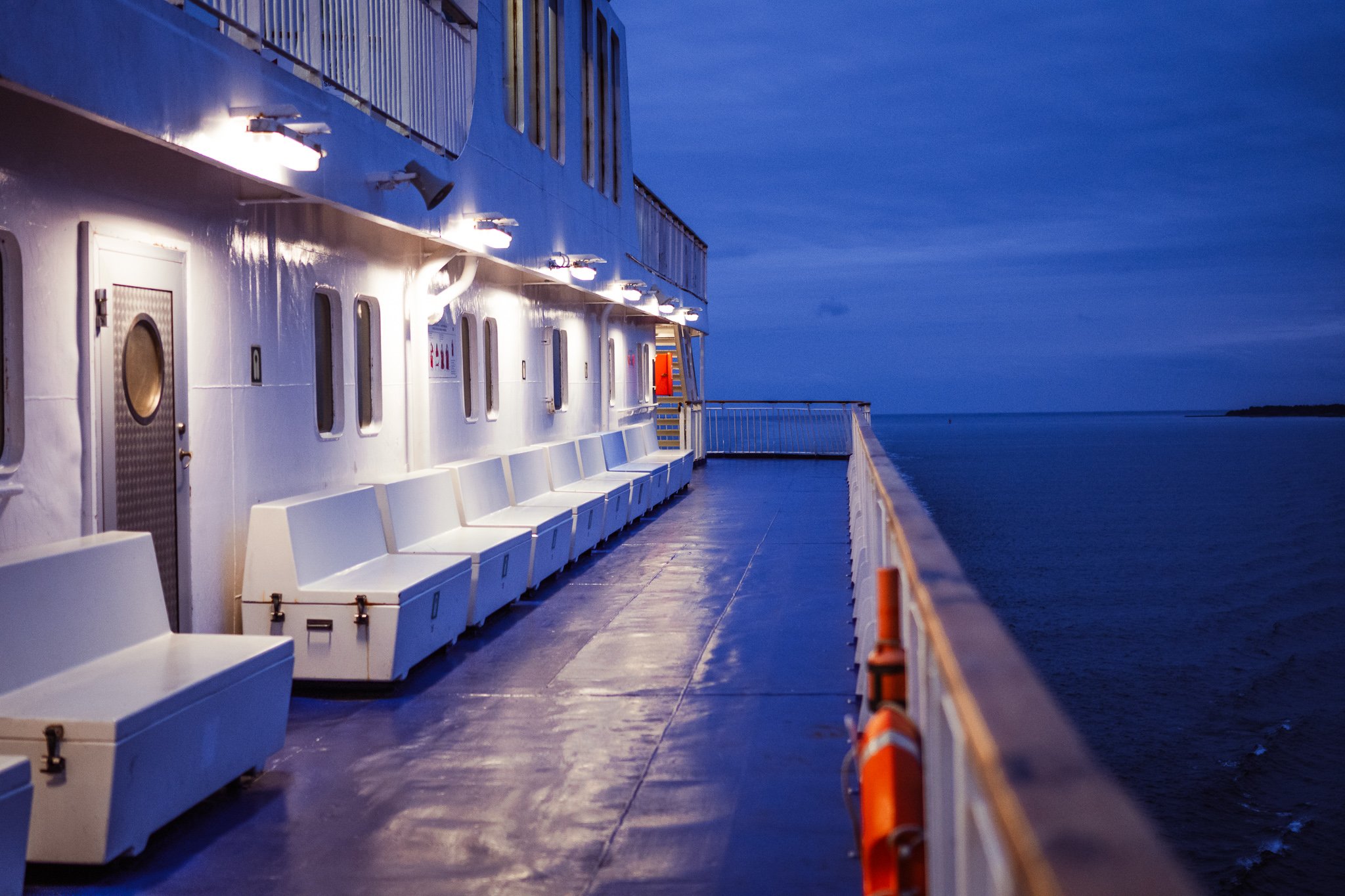 Booking the tickets
Tickets from all carriers can be booked in several ways – online or by phone, with online booking often including additional discounts (or no handling fees).
Subjectively, in my opinion, the friendliest online booking system is offered by Stena Line – you can switch to the whole month view to look for the lowest price, the form is legible, you can quickly click on additional options (cabins, meals, services such as wifi or late check-out – the possibility of staying in the cabin until reaching the harbour, etc.).
The second in line is the TT-Line system, but I have the impression that it is a more expensive carrier, both in terms of tickets (it is easier for me to hunt down lower prices in Stena Line than TT-Line) and cabins, but it is possible that this is followed by a better travel comfort, which I have not yet experienced.
Attention! When traveling with pets in Polferries, you must make a reservation by phone. It is not possible to purchase a pet cabin online.
Boarding
We have no experience in traveling on foot or by bicycle, hence only two sentences about it – foot passengers board with a special sleeve, and cyclists must be equipped with reflective vests.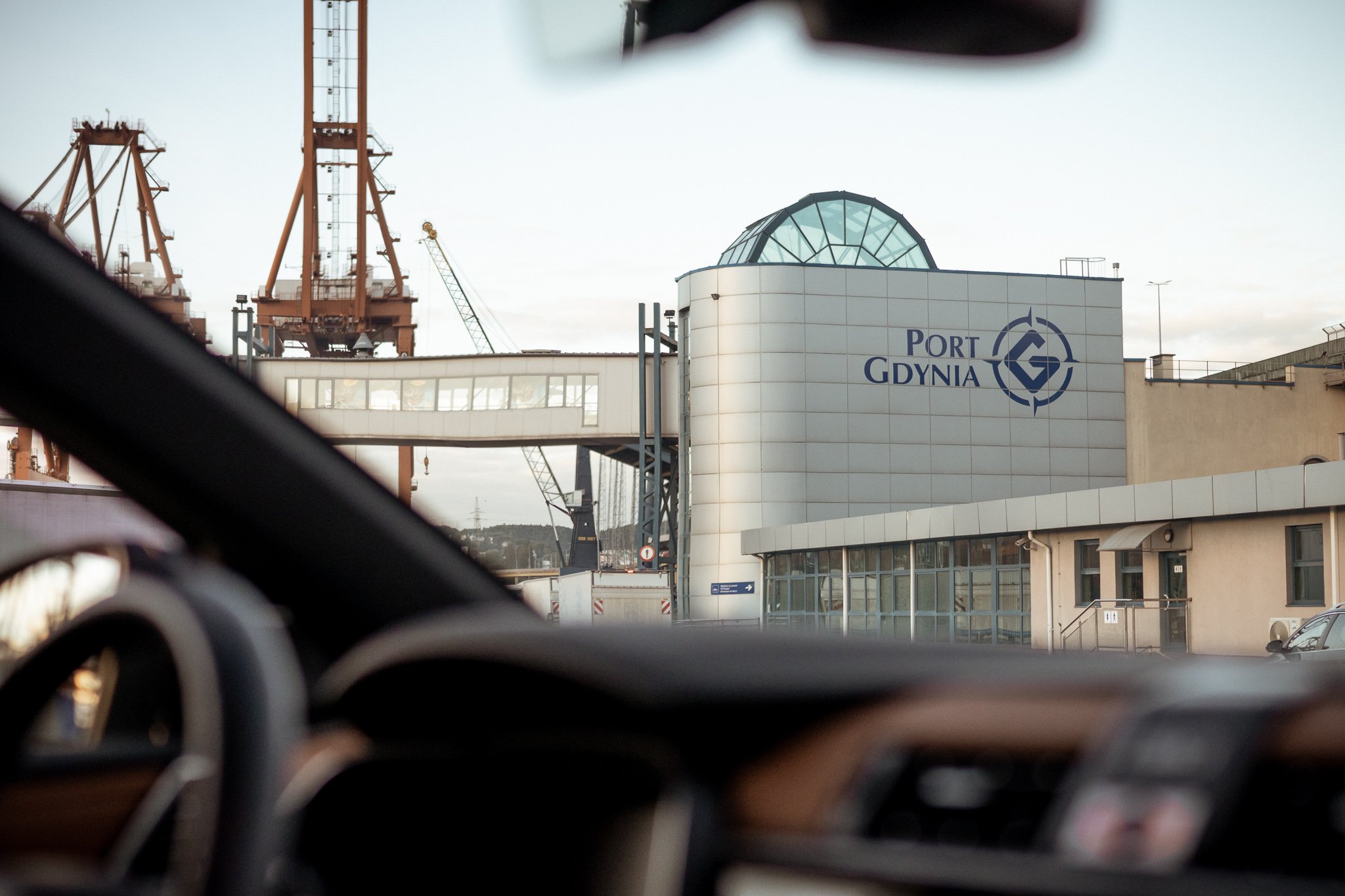 We travel by car every time. You must appear at least one hour before departure at the check-in counters, where identity documents (passports or ID cards and pet passports) are checked and boarding passes and a loyalty program points card are issued (if you are a member, and it pays – for every flight you make I have dozens of PLN discount on subsequent cruises, you earn points both when booking a cruise and during all purchases on board).
Then you are directed to the appropriate queue, where you wait for permission to board. Employees will guide you to the right track and show you exactly where to stand. The car deck is locked during the entire cruise and only opens 5 minutes before reaching the port. Take all important things with you and go to the door leading to the staircase (be sure to remember the deck number, the color of the staircase and which side you are on – when you get back to the car, you will probably see a huge semi-trailer of a parked truck right behind the door, not a spacious deck and your car) and then to the cabin.
Available cabins
Each carrier offers several types of cabins – from ordinary airline seats, which are usually available on shorter routes or only on day routes, through couchettes in common cabins, 2- and 4-person cabins in basic variants, for transporting animals or for more fancy ending with premium and captain cabins.
Our experience
Stena Line
The most important thing about the cabins – they must be vacated 1.5 hours before reaching the port (you can leave packed luggage at the door, but it must be finally collected 30 minutes before reaching the port).
You can purchase the late check-out service (included in the price of cabins with the option of transporting pets) by adding it to your bill when booking. Thanks to it, you have the right to stay in the cabin until the arrival at the port is announced.
Attention! During our April cruise on the Karlskrona – Gdynia route, we left our luggage in accordance with the rules and closed the cabin, went for breakfast and a walk. We returned about 40 minutes before reaching the port to collect all our belongings and it turned out that the cabin door was open and there was no ferry crew in the entire corridor. Our luggage was available for everyone to see, as were the luggage of passengers from adjacent cabins. We reported the matter to the carrier, but I want to mention it here anyway, because if you have a car, leave all valuables in the car or keep them with you all the time.
If next time we travel alone and without a late check-out, we will definitely not trust a second time and leave the equipment (then mainly laptops) in the cabin available for cleaning.
Comfort Class Cabin
We slept in it during our first trip together, when we moved to Sweden in April. We chose the option without a window, assuming that it is a night cruise and we will most likely sleep through it. We did, so the cramped size and lack of a window didn't bother us at all. The cabin has a toilet with a shower, which can be conveniently used during the journey. Bed linen and towels are at guests' disposal, there is also a TV set, with more or less success receiving Polish and Swedish channels.
Comfort Plus Cabin with pet allowance
We traveled in it four times, twice in the option without a window, and twice in the option with a window. It is definitely worth paying extra for the window – thanks to it, the space between the beds is wider and two cat carriers can fit comfortably next to each other.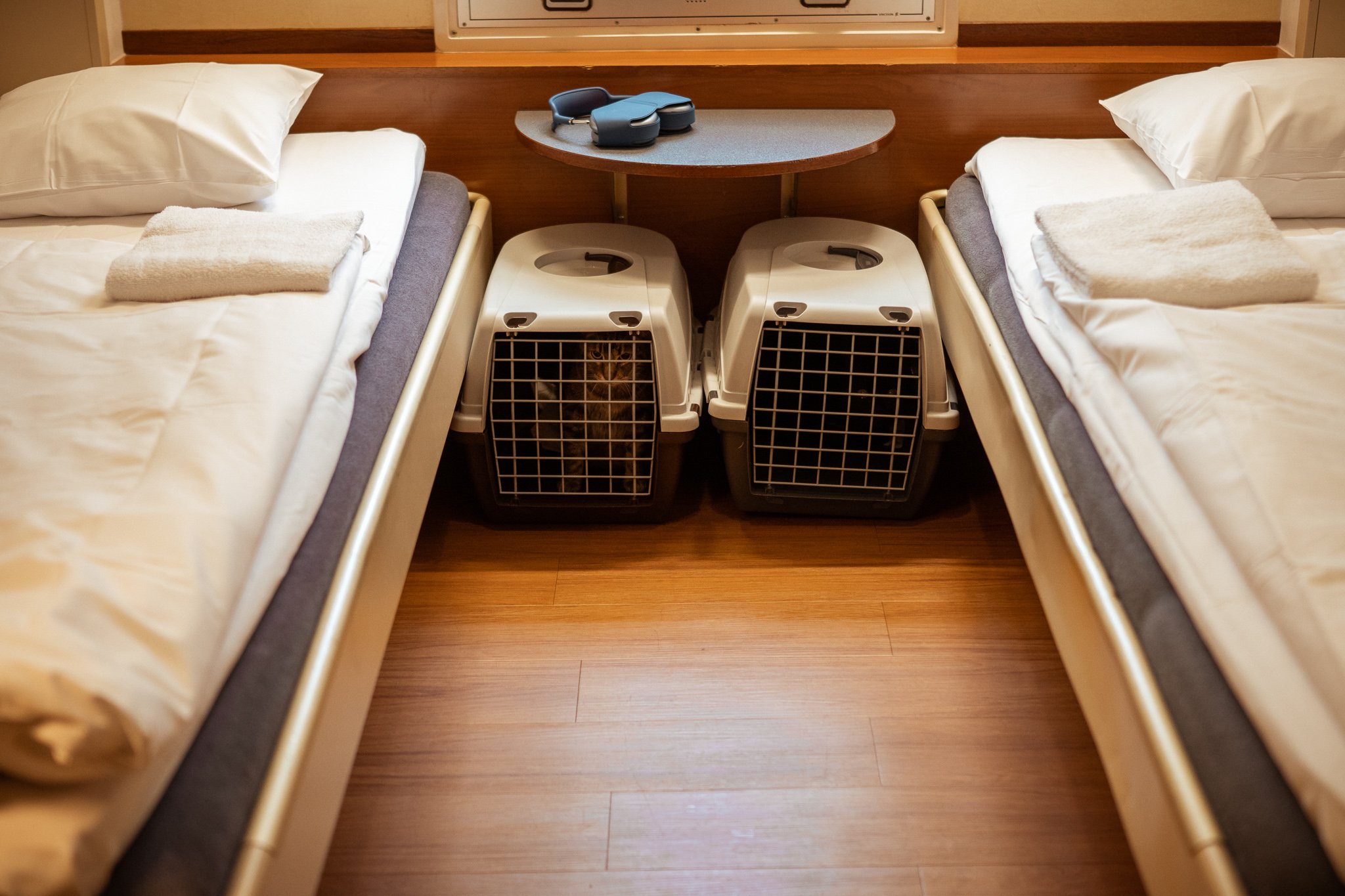 It's half a joke, half serious – the fact is that from our first trip in a cabin with a window, we can't imagine traveling without a window. We didn't even mind the fact that it was a day cruise – you can close the blinds and darken the interior if necessary. More space, better air circulation (I definitely breathed better) – all this is worth the difference of a dozen or so PLN.
In addition, the standard – four beds (two downstairs, two upstairs – the upper ones are folded when the cabin is purchased in the double option), bathroom (with toilet and shower), TV with Polish and Swedish channels.
Polferries
Premium Class Cabin
We did not sail in it personally, but we bought it for my parents when they were returning from Sweden to Poland during our move. We have chosen a version with a window for them – it is a very spacious cabin in which you can choose a variant with a double bed. The price includes breakfast or lunch (depending on the time of the cruise), and the equipment includes a mini-bar, fruit basket, TV and bathroom with shower.
The cabin on the Polferries ferry is large and spacious. Under the window there is a large double bed, on the sides of the bedside cabinets. There is a TV, a work desk and, above all, a bar in the fridge where we could find water, vodka in small bottles, soft drinks and beer. Everything was included in the ticket price. We were also greeted by a plate of fruit on the table. In the wardrobe we found toiletries: shower gel, soap, shampoo, toothpaste and toothbrush, as well as sewing and shoe cleaning supplies. They did not forget about towels and disposable slippers. The bathroom with shower was large. We felt comfortable in this cabin. It's a pity that the trip was over so quickly.

Julita Laskowska-WIlanoska, My mom, IG: @jwilanoska
Meals on board
There are usually restaurants/bars and/or cafes on the ferries. It should be taken into account that the prices are clearly higher than in a place on land that would offer meals of similar quality.
Our experiences at Stena Line
Breakfasts
During our trip in April, we bought the breakfast option so that we could fill our tummies after an overnight cruise. At that time, eating was still in pandemic conditions – instead of a Swedish table, you approached the counter and asked the staff to put specific products on it.
During subsequent trips, breakfast was included in the price of the cabin (it is included in the price of Comfort Plus cabins with the option of transporting animals upwards) and it looked more traditional, i.e. you could put a meal on your own.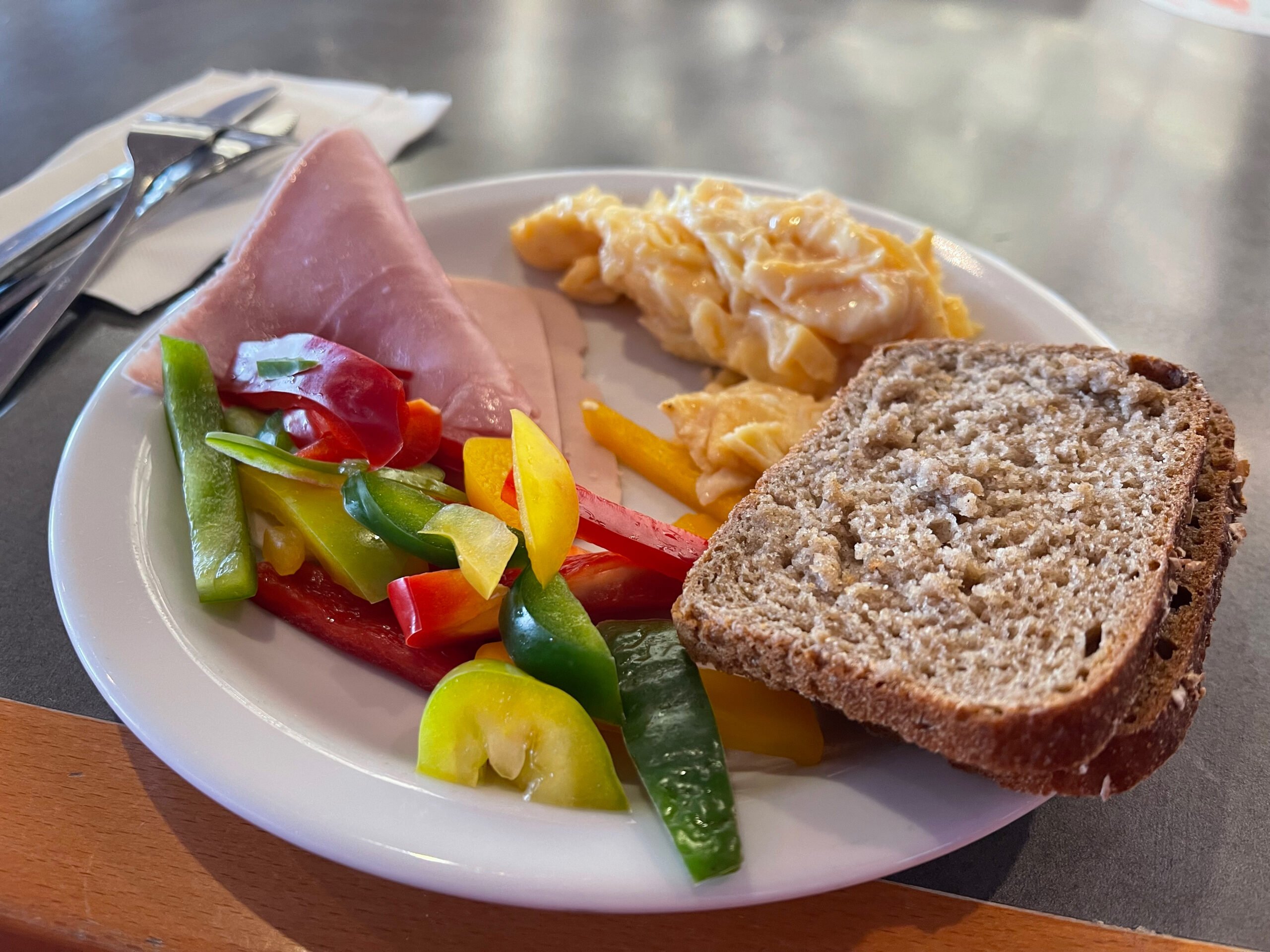 The regular repertoire includes cold meats, cheese, cottage cheese, fresh vegetables (cucumbers, tomatoes, peppers) and pickles, herring (in several ways, including mustard), muesli and breakfast cereals. You will eat hot beans in sauce (similar to those from the traditional English Breakfast), scrambled eggs and sausages. In addition, several types of bread (light, dark, Kaiser rolls and poppy seed rolls, and crispy Swedish breads). For sweet, you can choose pancakes with jam, peanut butter, Nutella, maple syrup – once we came across cupcakes. Among the drinks to choose from: water, coffee, tea, fruit juices (apple, orange) and drinks from the dispenser (Cola, Cola Zero, Fanta, Sprite, lingonberry drink).
The food in the breakfast buffet is generally tasty, although depending on the ferry, there are products of lower and better quality. In my private ranking, breakfast on the Stena Vision ferry wins, the worst we ate during our last cruise on Stena Spirit (operating on a scale of 1-10 – I would rate Vision as 8, Spirit as 5, with 1 – average, 10 – so delicious that the head breaks off :D).
Lunch/Dinner
During our daytime cruises (and night cruises, just after boarding the ferry), we used the Food City restaurant, which offers a buffet lunch.
We have a choice of soup and a salad bar, and the most common main dishes are Swedish köttbullar meatballs, pork chop, chicken leg, salmon, to which we can choose additions: steamed vegetables, potatoes or fries, and sauces (light and roast). Grilled vegetables are included in the price of the main course, but they cannot be exchanged for a salad bar, which is strange to me, because I would rather eat cold beets or grated carrots than boiled vegetables, but on the other hand, this way I get both and I'm happy too 🙂
I always choose a pork chop with fries and boiled vegetables, and I add a salad bar to it (beets rule, they have the addition of spices and are really tasty). The fries are fried on a regular basis, the cutlet, unfortunately, stands for some time in the bain-marie or is reheated and you can feel it. This is food at the multifood level, and for two such lunch sets with drinks from the dispenser (in the form of refills) we pay 270 SEK (approx. PLN 120).
Parents' experience at Polferries
The price of the parents' cabin also included breakfast. They had no other meals because they were on a night cruise.
Breakfast was included in the Premium Cabin price. In the era of COVID-19, it was served by the staff. There were many offers to choose from. Cold and warm. Salty and sweet. To drink juices, coffee, tea. Espresso machine coffee. Everything very tasty. Nice atmosphere and beautiful views through the windows of the restaurant.

Julita Laskowska-WIlanoska, My mom, IG: @jwilanoska
Entertainment on board
Since I only started traveling by ferry on this route in the times of the coronavirus, I can't say much about entertainment, because a lot of them are simply closed (although it's getting better and better from trip to trip and you can see that more and more things are starting to happen.
My parents were on a night cruise in the middle of a pandemic, ferry entertainment was closed, so I will describe our experience at Stena Line for now.
On the ferry, I recommend turning on airplane mode if you do not want to pay high bills related to the use of the sea satellite seat. It is not covered by EU roaming, so the prices are astronomical. The coverage of the land network is maintained for approx. 20-30 minutes after departure and reappears 20-30 minutes before arriving at the port.
Stena Line
Of the entertainment we saw but did not use, there are rooms with games on consoles (previously closed, now they looked like they were open, but no one was using them), a small games room, a playroom for children. The SPA remains closed until further notice. In the corridors you will come across numerous gambling machines.
Store
The shop is open in several windows during the cruise, and you can buy almost everything there – cosmetics, electronics, souvenirs (I loved my baseball cap with flowers and the inscription Sweden with all my heart), sweets and snacks and … alcohol. Don't be surprised by passengers with huge carts loaded with liquors (especially beer) to the brim, up to the border designated by customs regulations. Indeed, some prices are very favorable, especially compared to those in Sweden.
Activities
On day cruises, the on-board entertainment team offers various activities. Animations are offered for children, while adults can indulge in other entertainment, for example a game of bingo, which is organized in the restaurant area, combined with a travel quiz. The best people can win Stena Line gadgets. We managed to win once both Bingo and Travel Quiz and I consider it my personal success.
On our night cruise, not much was going on due to the coronavirus – Tomek reports that before the pandemic, karaoke was taking place and a pub on the upper deck (outdoor) was open.
Wi-fi on board
On our first trip, we bought a large hourly package of high-speed wi-fi access, because we assumed that we would do some work or watch Netflix. Unfortunately, reality has verified these plans.
In the cabins, the wi-fi range is negligible – it is almost non-existent, and even if it appears and the connection is successful, the speed of this connection can leave much to be desired. For the return trip we modified the booking and removed the internet package. We connect to the free network during meals and staying in common areas. Such a connection is slower (it's hard to check e-mail, I'm not even talking about Instagram, but it's possible) and you can use the network for 20 minutes at a time (after that you have to reconnect).
Traveling with pets
Of our six joint cruises, which we made from April to September, four were accompanied by our cats and a dog. In this part of the post, I will discuss practical tips for traveling with pets.
Booking the tickets
Due to the prices, dates and routes, we were only interested in Stena Line and Polferries ferries for our trips. Unfortunately, Polferries does not offer the possibility of booking animal transport online, only by phone, which is very inconvenient for us and our choice falls on Stena Line travel.
If you book a cruise for yourself and your pets with Stena Line, be sure to book a cabin marked with the option to transport pets. Don't forget to add tickets for dogs and cats in the last step (you have to do this regardless of the type of cabin you choose). Up to 3 dogs/cats can stay in one cabin. The price of the cabin includes breakfast and late check-out – do not add these options to your booking (the form will allow it and will not display additional warnings).
EDIT: 08/27/2022: Attention! During our trip this summer in the cabin with animals, the ferry staff asked us to leave the cabin 1.5 hours before reaching the ferry. It turns out that Stena Line has changed the rules of travel and in the cabins with animals, you NEED TO BUY THE LATE CHECK-OUT OPTION. The information was confirmed in response to my complaint, but I do not know when the conditions of carriage changed.
Requirements for transporting animals
Before traveling, check Sweden's health requirements – on the date of publication of the entry, the animal must have a European passport, be microchipped and have a current rabies vaccination. In addition, when traveling to Sweden, you must declare animals to Swedish Customs (details can be found at this link). This can be done online.
On board the ferry, you can only travel with animals on the designated deck and in the cabin (not counting, of course, the route from the car to the cabin and back), dogs must be on a leash and muzzled, and cats and other animals in carriers. Pets are not allowed in the beds and bedding, and the owner is responsible for any damage caused.
Getting to the cabin
The number of cabins for animals is limited, because they are located in only one part of the ferry, which is adjacent to the animal deck. On Stena Vision and Stena Spirit cruises, they are located on deck seven by the green staircase.
Additional equipment
In addition to the standard equipment of cabins in the Comfort Plus class (2 or 4 beds with a set of bed linen and towels, two tables, a TV set, hangers, a bathroom with a toilet, a shower and a washbasin), cabins with the option of transporting animals also have dog beds (different types, models and types, each cabin has a slightly different one) and a metal bowl.
Unfortunately, there is nothing prepared for cat owners that could serve as a litter box. We manage by converting one of the transporters into a litter box – we line it with pads or paper and leave it open for the entire journey, and before leaving the cabin we wash it in the shower.
Pet deck
At the end of the corridor where the animal cabins are located, there is an exit to the outer deck. This is the only place where you can go with your pets for a walk. Dogs can relieve themselves in a designated, fenced area. Depending on the ferry, it looks a bit different. In Stena Vision it is a street lamp sprinkled with expanded clay, while in Stena Spirit there are two small pens with concrete pillars, also sprinkled with expanded clay.
Our Homer was initially fussy and distrustful, but eventually he became convinced and willingly relieved himself in a designated place (however, he would not have thought to relieve himself in a random place – well, this individual has that sometimes he pretends that he doesn't have a bladder at all), but from the accounts of friendly pet owners and fellow passengers, we know that it is not always so easy.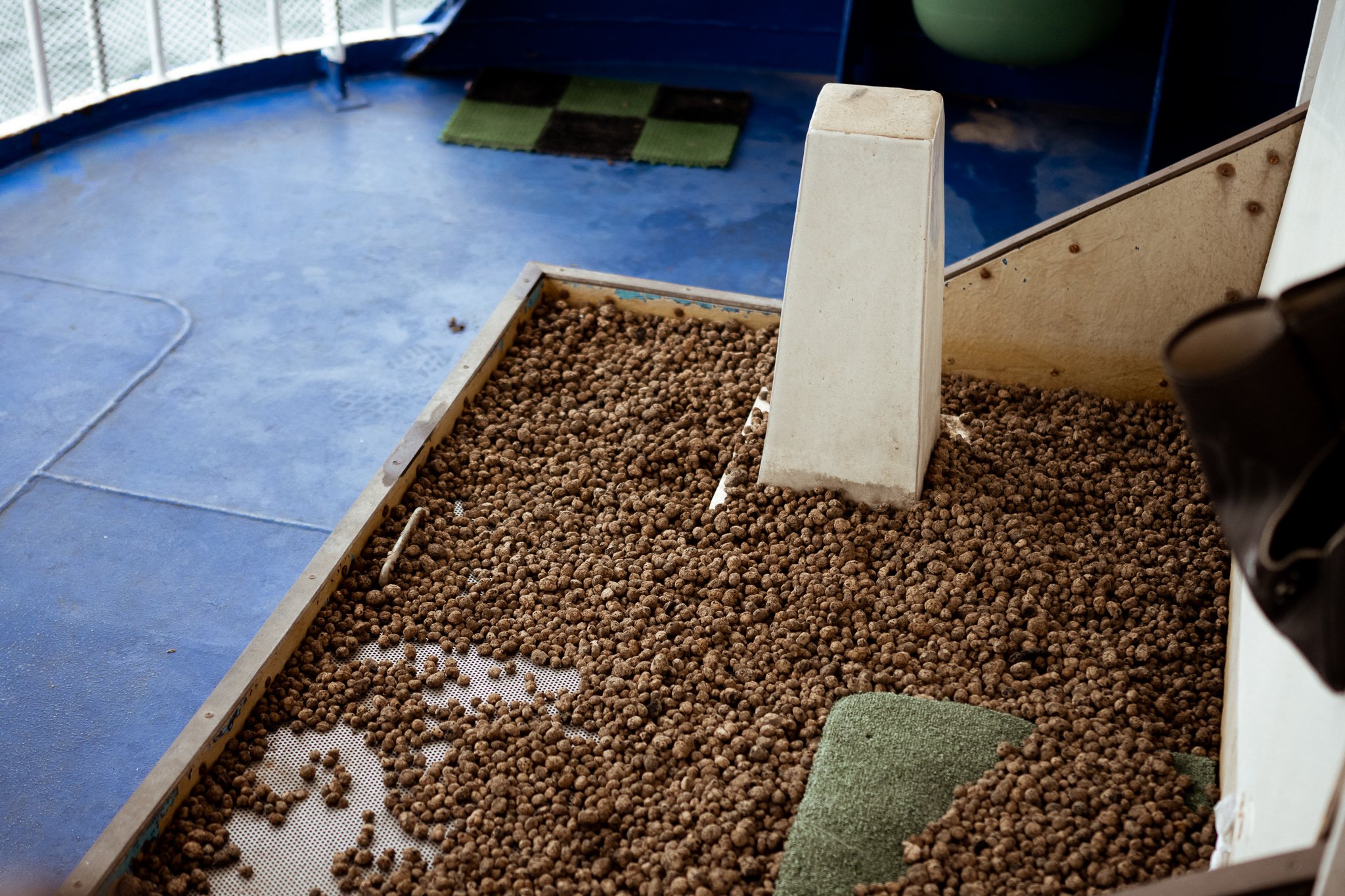 Our tips for survival
We realize that each animal is different, has a different character and tolerates travel differently, so don't treat this part as a universal recipe for everything. However, I know that the exchange of experiences is extremely valuable, so I decided to collect some points that may be useful to you on your journey.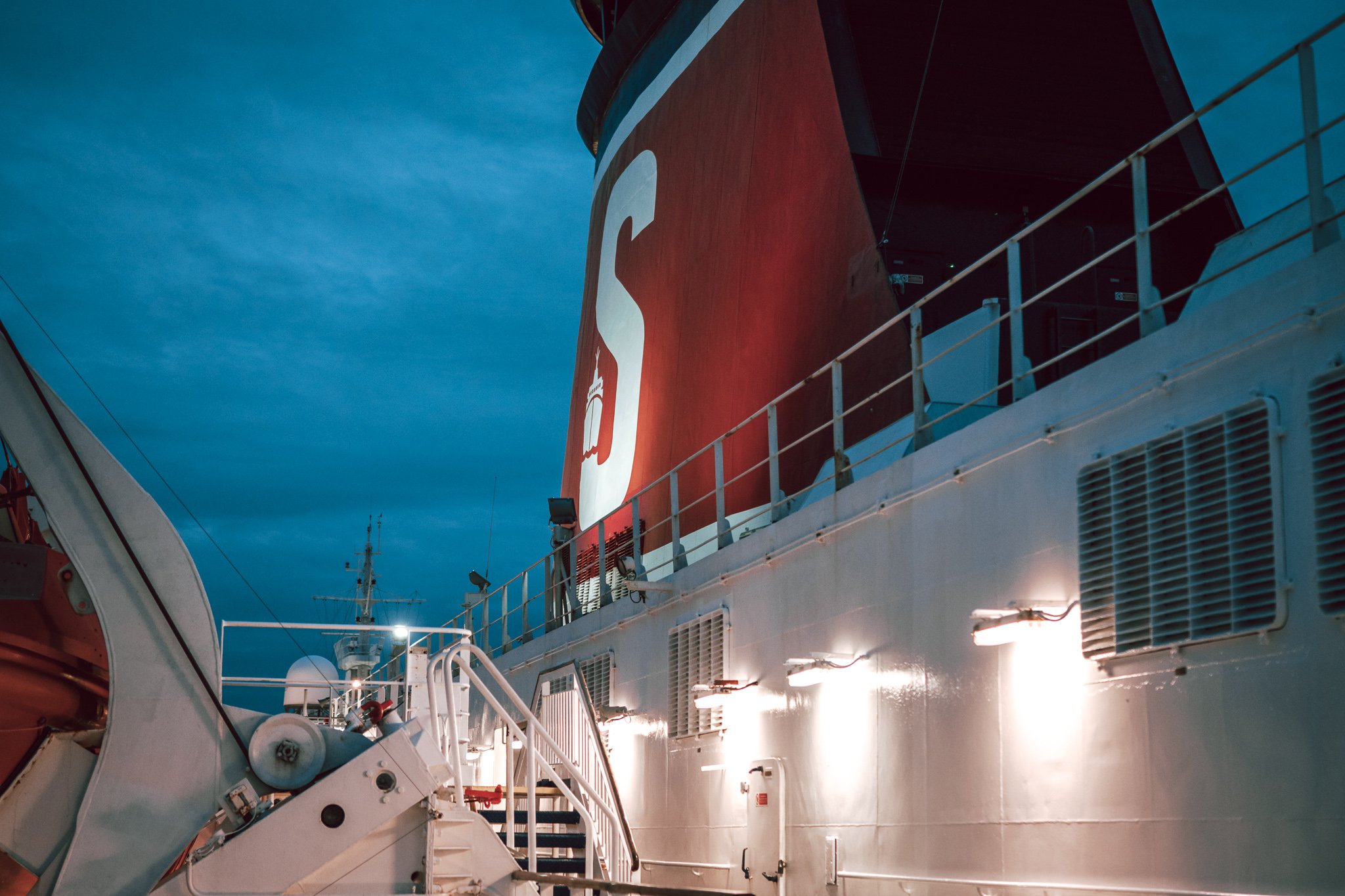 Sedatives: Our dog is a born traveler and is happy to go anywhere with us. The cats had episodes of stress-induced kidney disease during an earlier move. We were afraid of the first, such a long journey, so we went to the vet for a consultation. During the first cruise, we gave the recommended sedative tablets, a few days earlier the cats took herbal sedative supplements and supplements to support the urinary system. It turned out that they endure the journey much better than we expected, so at the moment we only need supplementation and a proper daily diet.
Staying in the cabin: Homer has no problem staying alone, but we don't trust cats to know 100% where the litter box is when we're not in the cabin while we're going to dinner or breakfast, for example. That's why they stay in transporters during our absence.
No litter box: As I wrote above, animal cabins do not contain anything that can be used as a litter box, so we simply use a carrier lined with a pad or paper towel (it's worth having bags in which you can pack such pads or used paper – there is no way to lower them down the drain toilet, because it works under vacuum and throwing anything but thin toilet paper can cause clogging).
Late check-out: I can't imagine traveling without this option so since Stena Line is no more offering it in the price of pet cabin, I definitely recommend buying it. There is no way you can survive on crowded ferry's corridors with a dog for 1,5 hour.
---
In this entry I have included all our experiences related to traveling by ferry on the Poland-Sweden route and back. The content will be updated if something changes and when I have something to add because I will gain new experiences.
Do you have questions? Let me know in the comment – I'll be happy to help if I know the answer 🙂
[booking_product_helper shortname="wyszukiwarkadopasowujcasipl"]
The Booking.com accommodation search engine contains affiliate links.
Useful entries