Like last year, I decided to prepare a summary of the passing year. It will be about professional and personal matters, in a slightly different format than last time. I will not go through each month in detail. Instead, I will list milestones in chronological order. If you want, you can also read my summary of 2020.
Summary of 2021
Plans for 2021
This is the moment when in January I began to plan my 2021. I knew that I wanted to move to Sweden for 100%, but I didn't know yet under what circumstances it would work out. I started working intensively on saving money, and in my free time I was looking at properties, which has always been my hobby. Finding an apartment in Sweden is one of the more difficult steps, so I was considering different options. I also wrote a plan for projects in my company – there were WordPress and WooCommerce courses, challenges and more frequent webinars.
Signing the contract for an apartment
Believing in the power of attraction, we began to talk more seriously about moving out around April/May, right after Easter. That's when we started looking for an apartment and I don't know how many messages I sent on different portals. I signed up for a few no-queue housing cooperatives and in February an agent from one of them contacted us. She was interested in our unusual application from a person who doesn't yet have a Swedish Personal Number and shows income from a Polish company.
We met, talked and she was so friendly that she showed us on WhatsApp two apartments that we were initially interested in. We fell in love with one of them and the agent promised to take care of all the formalities and after a week we had an electronically signed contract. The move-out date was set – April 15th we were supposed to pick up the keys.
Moving to Sweden
The summary of 2021 would not be complete without this point. It's a big change in our lives. After a time of intensive preparation, packing, completing financial reserves for setting up four corners (we rented an empty apartment with a fitted kitchen and bathroom – that's the standard), on April 14th at 9:00 PM we sailed from a ferry in Gdynia (Poland) to our new apartment in Sweden. We spent a week there, completing and assembling furniture, and then we returned to Poland for two days, to pack the rest of the things, animals and on two cars (with parents in the second one) we returned to our new home.
It was the fulfillment of one of the most important goals for 2021 – the move had been following us for a few years, something always stood in our way. We did not give up and finally we did it. We don't regret anything.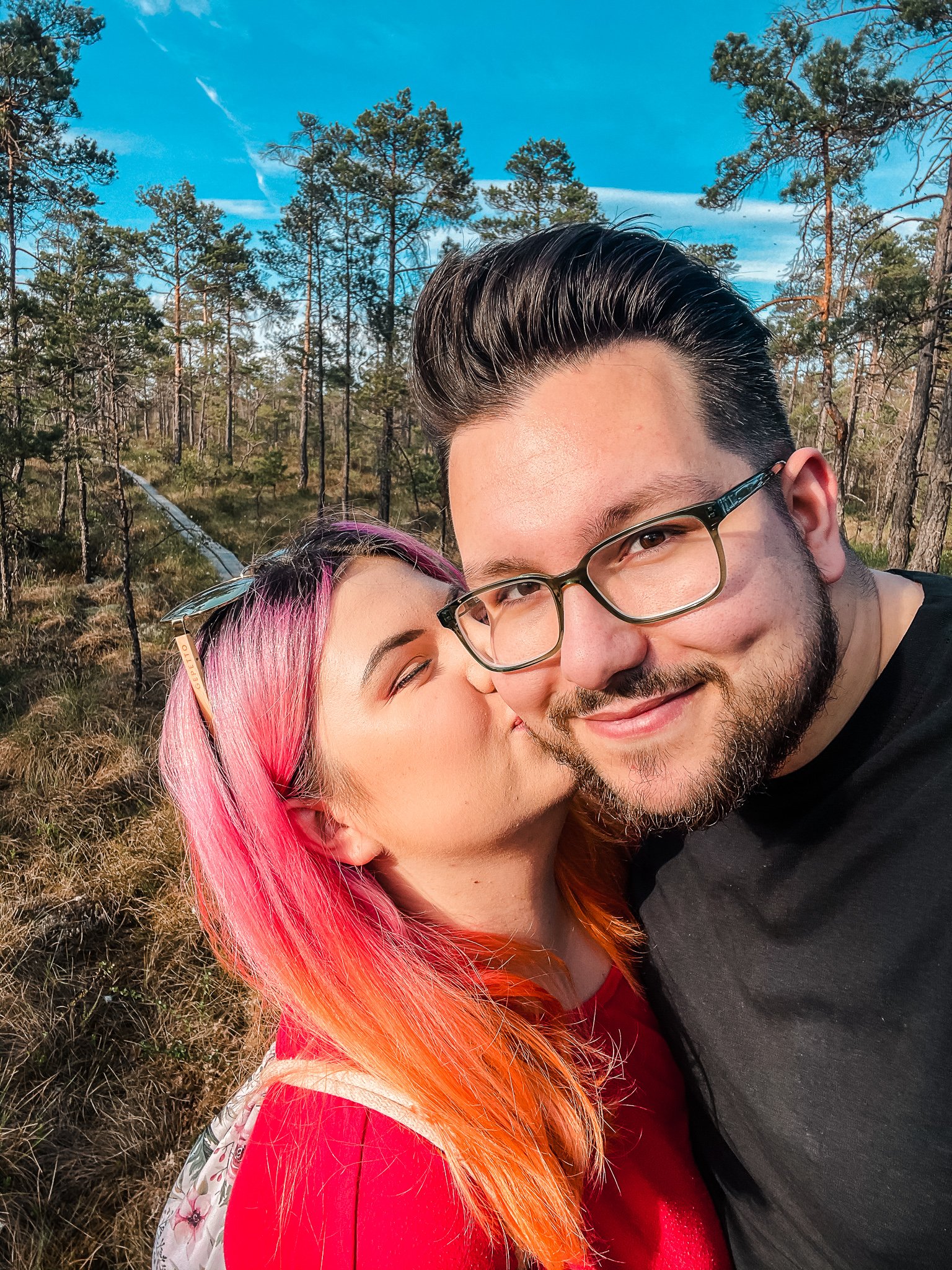 Starting a company in Sweden
After a summer full of rest and enjoying the proximity of nature, autumn came. It passed under the sign of impatiently waiting for my personal number (personnummer), which I didn't receive for a long time. We lost patience and eventually Tom started the company on himself – we officially started at the end of October and issued our first invoices to customers in November.
Running a company in Sweden is incomparably easier than in Poland. Although opening of the company gave us headaches a few times, we are happy we made this step.
I started learning in a language school
State school, completely for free – and with a bang. The first step for foreigners is the SFI course with a refund. I started one level higher – from SvA Grund, which is the basic course of svenska som andraspråk. I was able to communicate in everyday situations, but I thought that since I have the opportunity to learn for free, it would be foolish not to take advantage of it. I am incredibly happy – although so far I have had relatively few classes, I can already speak about significant progress in my language skills.
I also confronted the way school and teachers' approach to students looks like here. It was sad to me that it doesn't look like this in Poland. On the other hand, I added one more point to the list of reasons why I am happy with the move here. My future children will have a chance for education without school phobia.
I got a personnummer
In November, the moment I had been waiting for came – I received a personnummer. Life in Sweden without this number is extremely difficult. Its absence means that you do not exist in the system, you cannot do anything in any office, you cannot set up a regular customer card at the store and you're screwed. On one Monday, an official from Skatteverket (tax office, which grants these numbers) contacted me to ask me to complete the documents. I could also do it via email. I sent additional information and explained why I did not submit the documents that she asked me to now, and… by Friday I appeared in the system.
I got a Swedish ID-kort
The next step after receiving the personnummer was to get an ID-kort from Skatteverket, which is a document used to identify us (although, unlike a typical ID card issued to Swedish citizens, it cannot be used to cross borders).
With this document in hand, I finally felt "in place" and at home.
I suspended my business in Poland
Exactly on the last day of 2021, my Polish business activity was suspended. This was the penultimate step of moving out of Poland (the final step will be its closing, but that will come later). Since January 1st, 2022, Tom and I have been working in his Swedish company. We still call ourselves Pikus.IT and we do what we did before.
---
That's how my summary of 2021 looks like. A lot has happened – all of this has strengthened me in the belief that it is worth dedicating energy to good things, because then it comes back to us with multiplied effect.
Plans for 2022
I don't want to write about some of the plans yet, but it will definitely be a year of shifting emphasis from work to life. Professionally, we are focusing on passive income sources – mainly electronic products and affiliate marketing. This will allow us to slow down a bit without losing any money. One of the bigger goals that I can write about and want to is to finally close the business in Poland by the end of the year.
I wish you all the best in the coming year – achieve your goals, realize your plans, and enjoy life. Just like that.