When I was still living in Poland and my contact with the Swedish language was limited, I was looking for interesting YouTube channels in Swedish. It has been known for a long time that contact with a living language is invaluable in the learning process, and when we listen to things that interest us, it becomes much more enjoyable.
Below is a list of YouTube channels in Swedish that I especially like and recommend. Enter your own tips in the comments – the list will be updated. Dla ułatwienia podzieliłam ją tematycznie.
[ez-toc]
Lifestyle – YouTube channels in Swedish
Therese Lindgren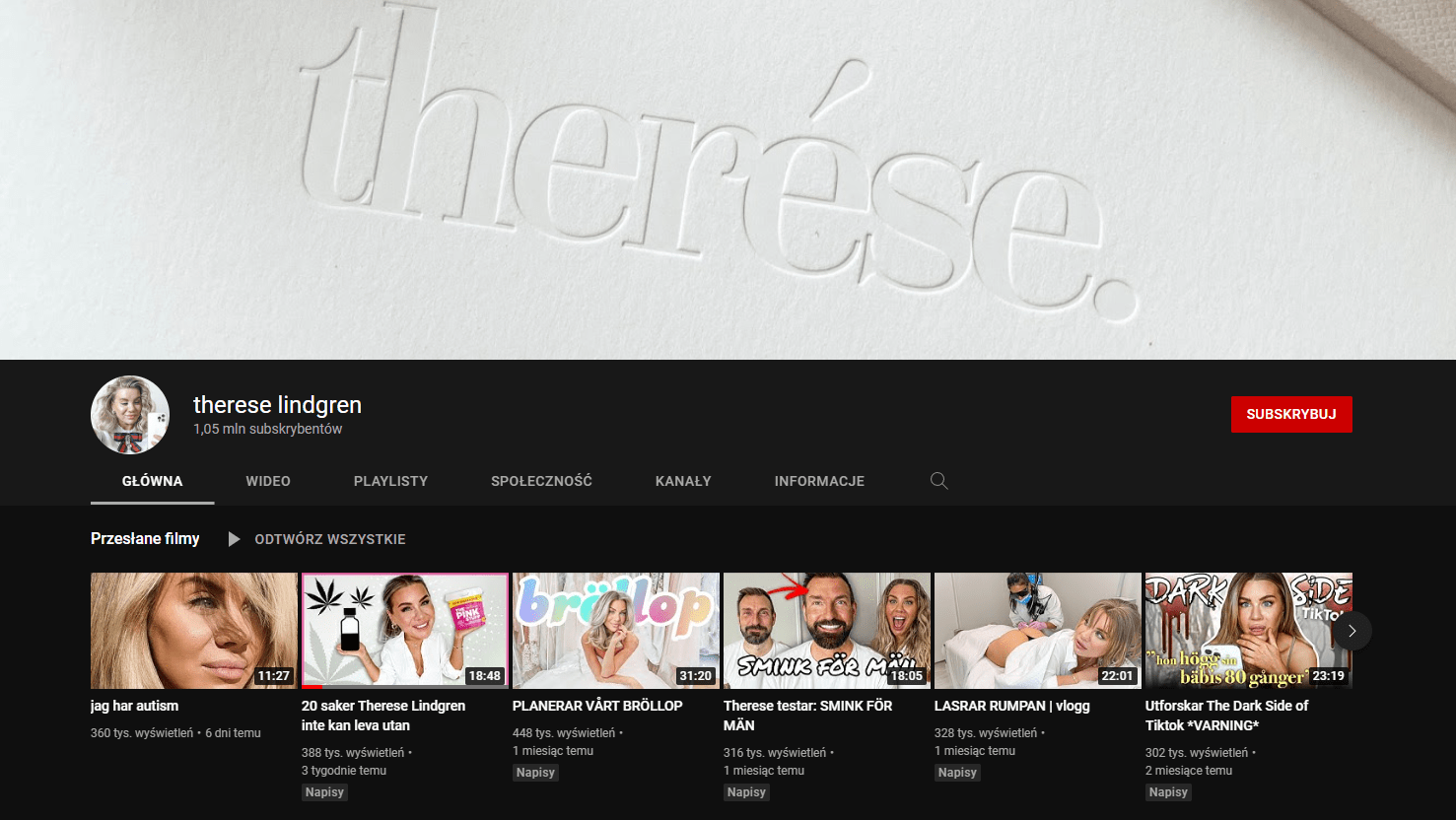 Therese is one of the most popular (if not the most popular) Swedish influencers. In addition to Instagram and blog, she also runs his YouTube channel. Main subjects of the films are diverse, hence I have included them in the lifestyle category – you will find there both cosmetic and entertainment films as well as vlogs, wedding preparations, pro-social content and activities. The topics are diverse, everyone will find something for themselves. Therese speaks quite fast, but all the videos have Swedish subtitles, so it's not a problem to understand the content. Channel url
Familjen Reinhold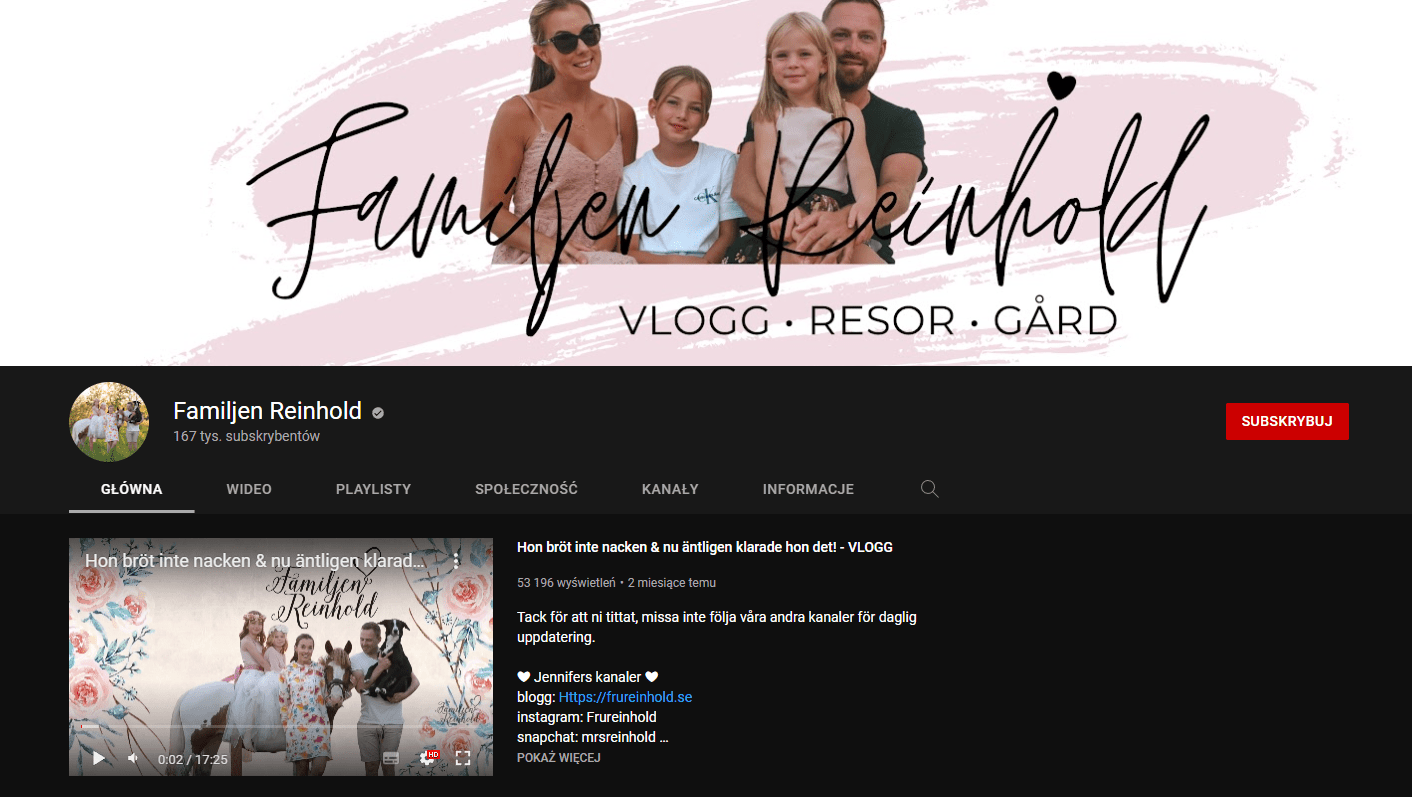 This is one of the channels you watch with warmth in your heart. You will find here mainly vlogs that document the events of the life of a Swedish family of four. Lots of idyllic views, typical Swedish leisure activities (horseback riding, long walks, playing in the backyard pool, picking berries and spending a lot of time outdoors). Channel url
Linn Ahlborg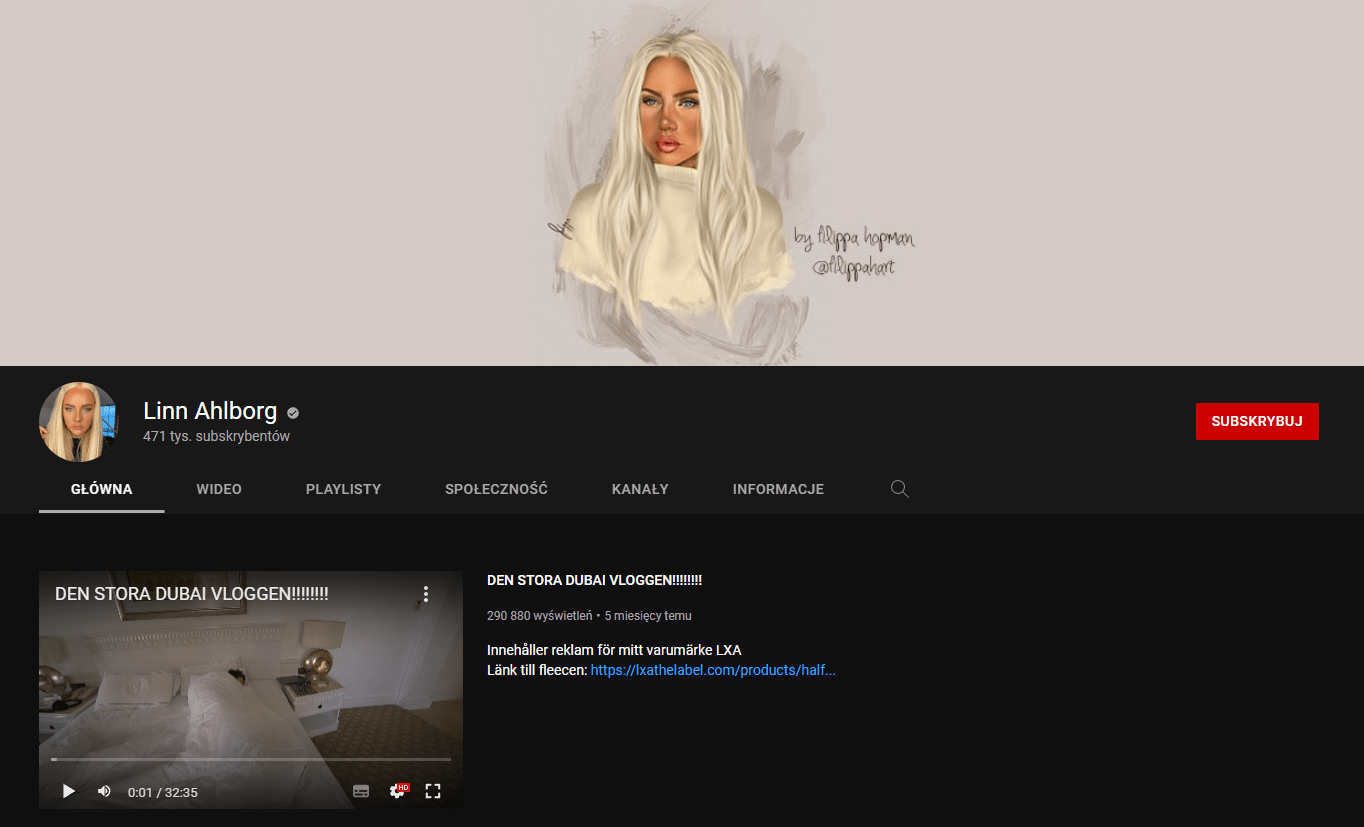 I started watching Linn Ahlborg a few years ago and I watch it on and off until today. Her vlogs are bordering on entertainment and lifestyle – there are plenty of tests and challenges, but you will also find vlogs, beauty and travel videos on it. Unfortunately, the films do not have any subtitles. Channel url
Cuisine – YouTube channels in Swedish
Camilla Hamid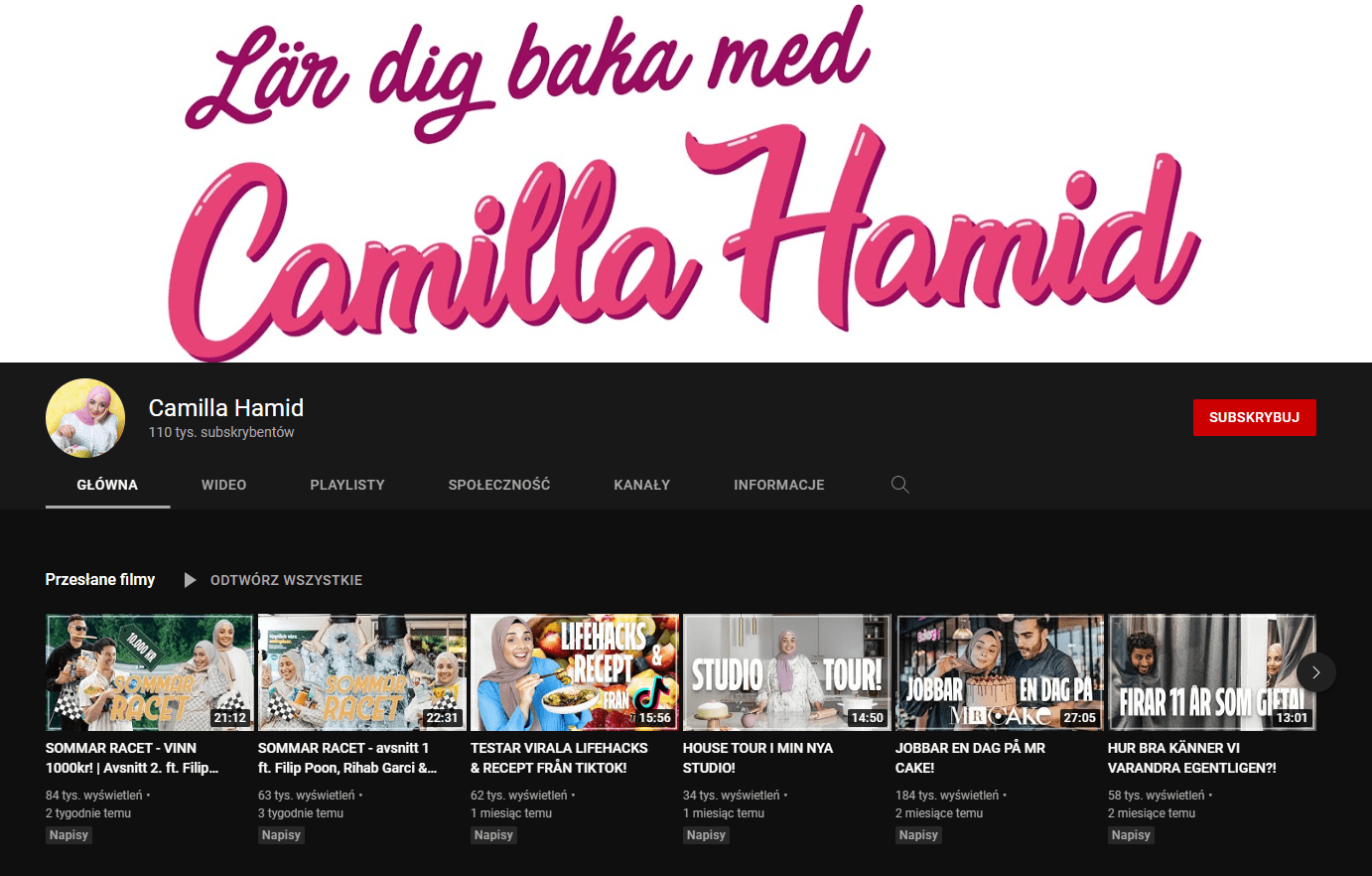 Camilla is an author of cookbooks known in Sweden and is especially known for her baking. On the channel, he not only shares recipes, but also prepares culinary entertainment films (e.g. a working day at the well-known Mr. Cake confectionery). All films have subtitles in Swedish, which additionally facilitates learning – if you have difficulty understanding by listening, you can use the text. Channel url
Vendela Nilsson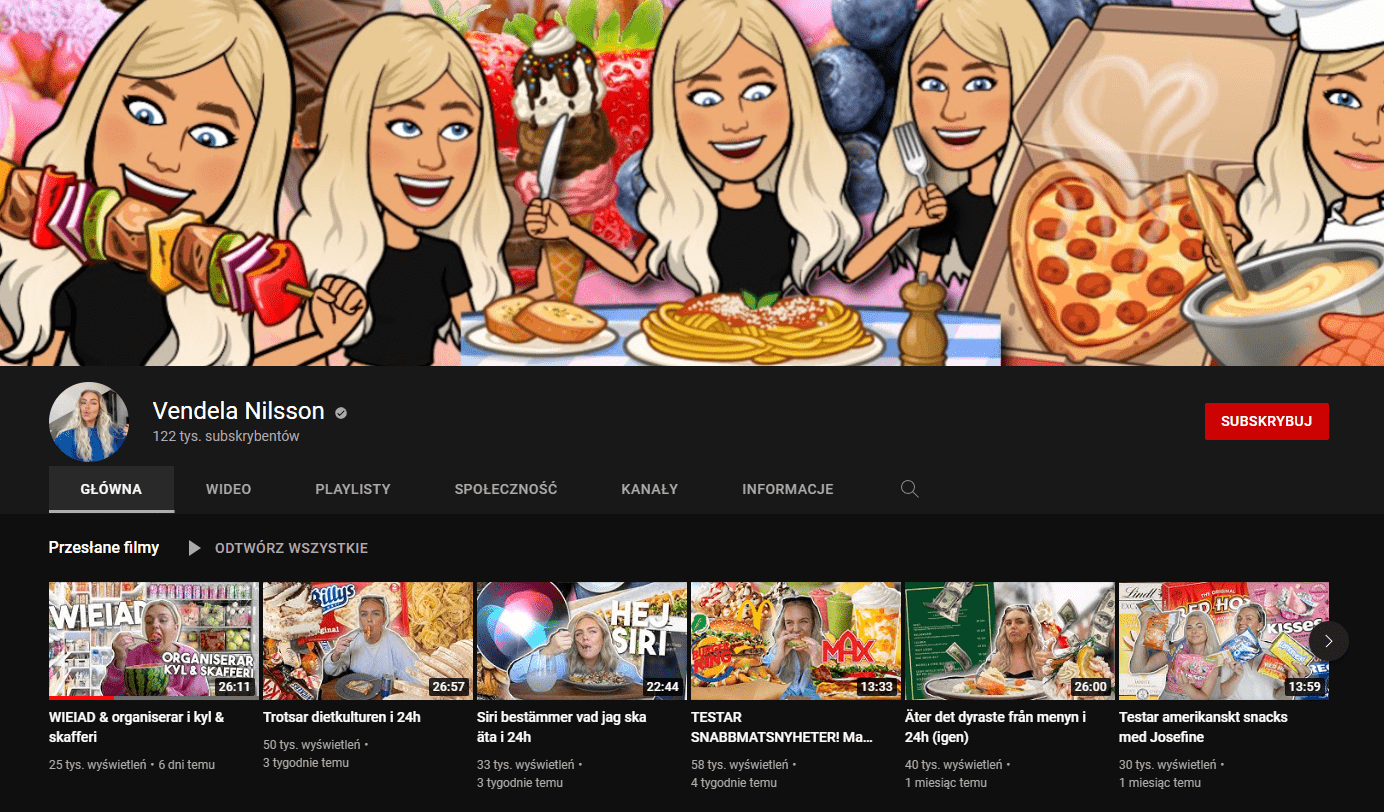 Channel bordering on food and entertainment – I had a delicate problem where to put it. The latest videos are mostly about food – product tasting and restaurant testing. You won't find many recipes here, and older films involve vlogs, challenges or even conspiracy theories (I'm talking about productions from a few years ago). Vendela speaks relatively slowly and clearly, so her materials are easy to watch even when we are not 100% fluent in listening. Channel url
Filip Poon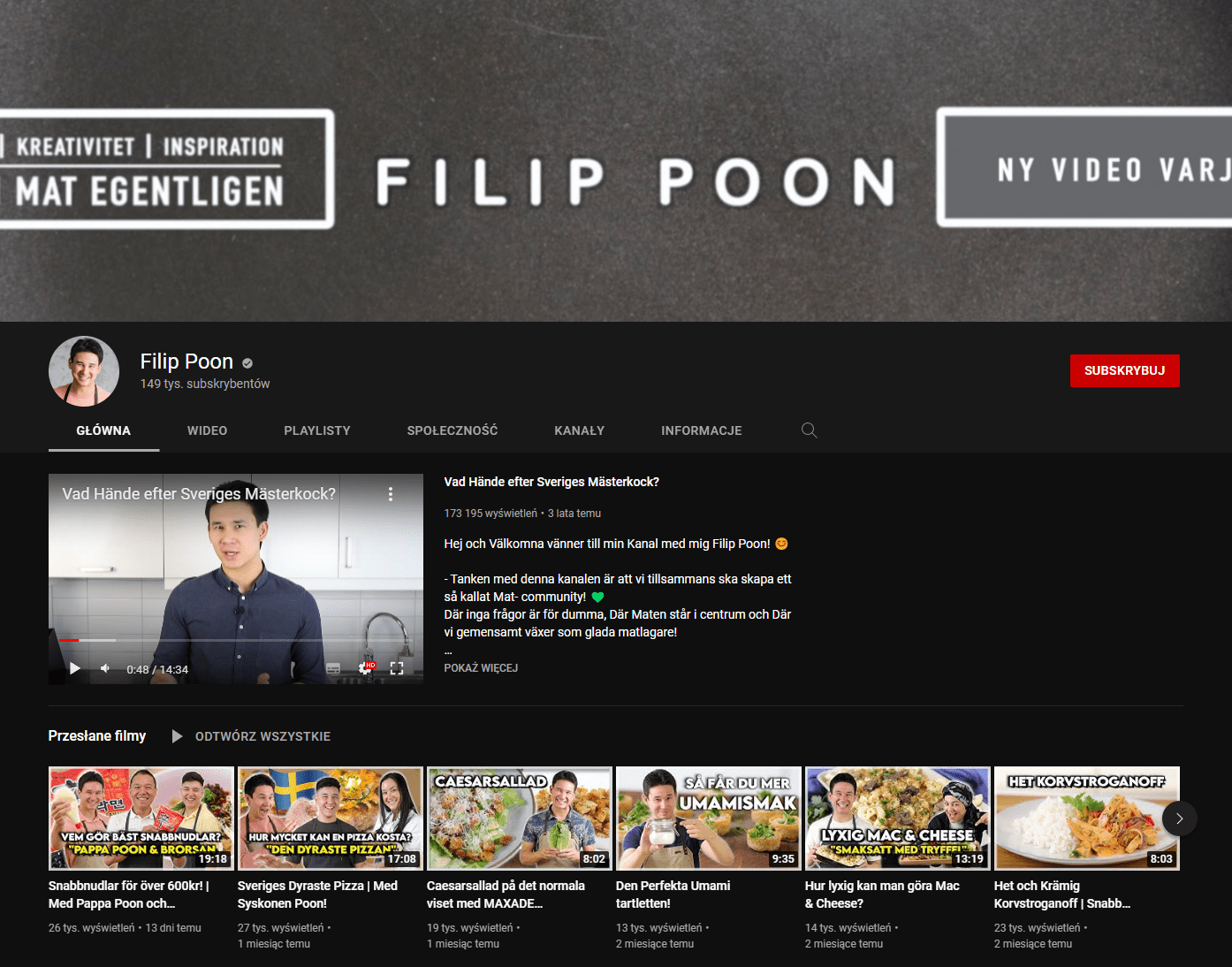 Filip Poon, the author of this channel, also published his culinary book last year. The vast majority of videos are recipes, many of them are Swedish-based. Linguistically, the films can be a bit more difficult to understand – Filip and his guests speak faster and unfortunately there are no subtitles for the videos. Channel url
Beauty – YouTube channels in Swedish
Margareta Grääs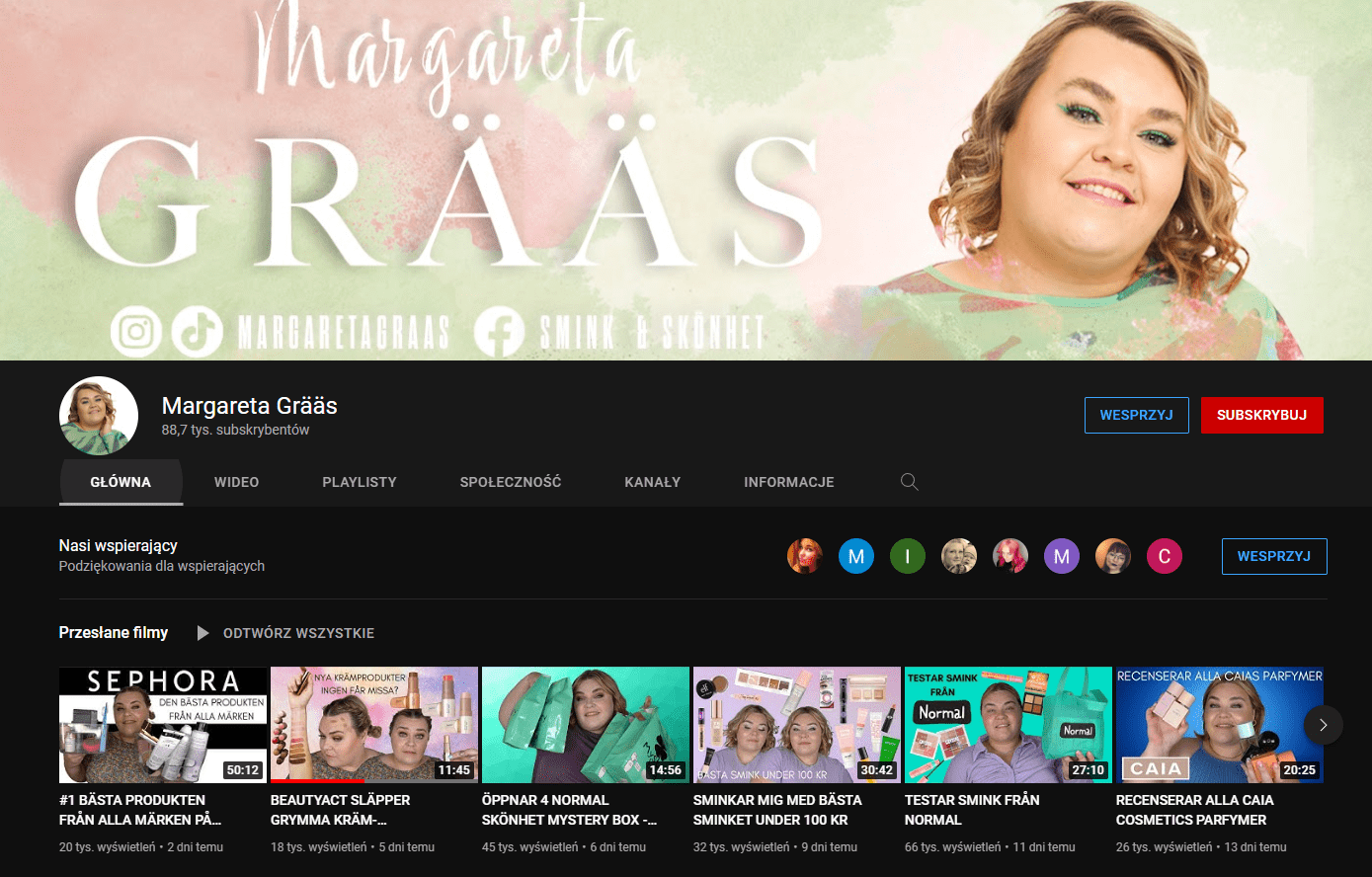 Margareta mainly records videos related to cosmetics and make-up. On the channel you will find videos with tests and comparisons of cosmetics from different brands and from different price shelves, as well as make-up suggestions and tutorials. The vlogger speaks a bit faster, which, combined with the lack of subtitles, can be a bigger challenge. Channel url
Johanna Johnson
Beauty and fashion content is intertwined with vlogs and other lifestyle films. On the channel you will find cosmetics tests, films from the "Try it on" series, as well as beauty challenges. In terms of the number of subscriptions, it is one of the smaller channels in this list, but if you are interested in beauty related content, I think this is a good place for you. Channel url
3llaSa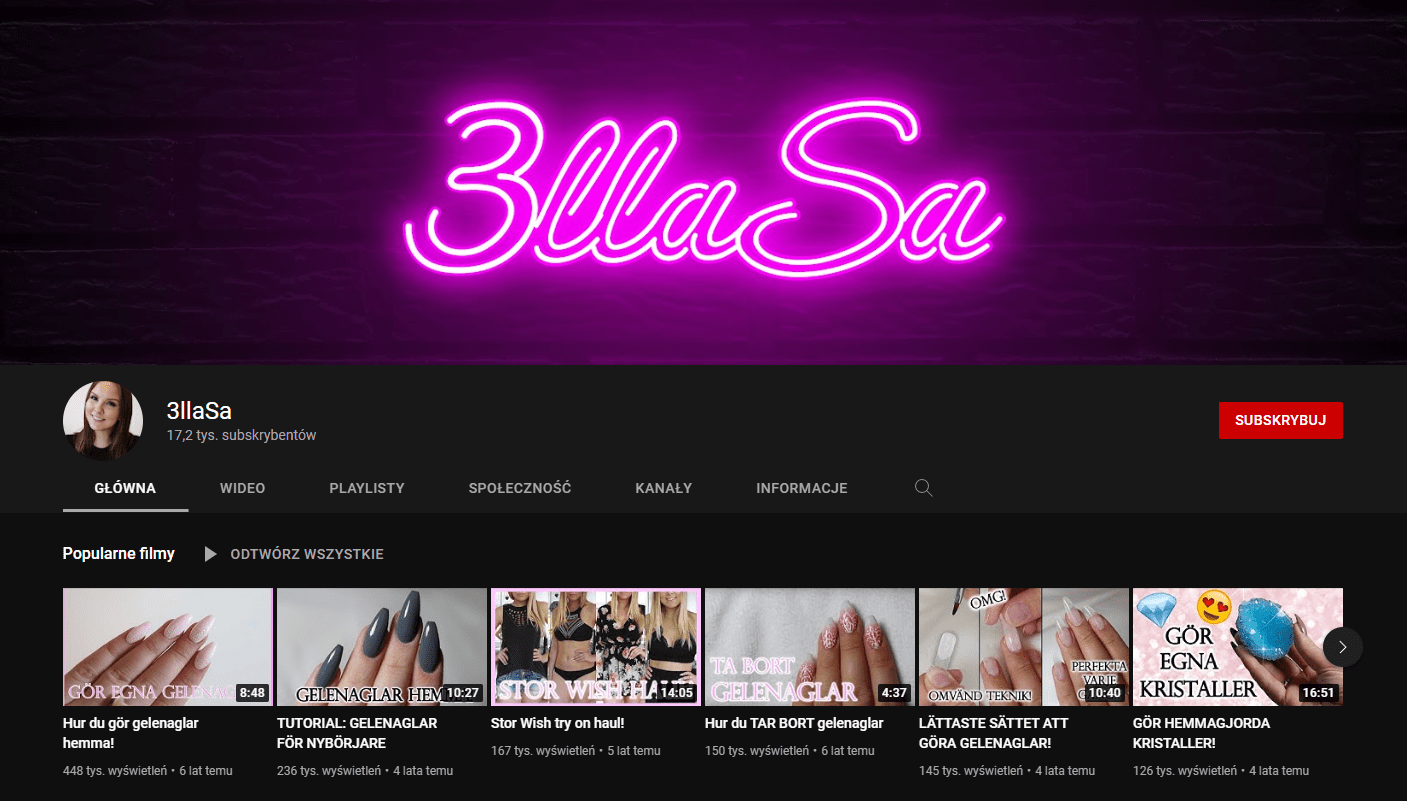 Ella covers mostly nail related content. As a former nail stylist, I could stick to some of the tutorials (this is also due to the way this type of services is performed in Sweden and the fact that nail extensions still reign here in salons), but I treat this channel more as a source of specialist vocabulary just about nails and products intended for their styling. Unfortunately, the videos don't have subtitles and the author is very rarely seen in the frame, which may make comprehension more difficult, but the words are usually spoken slowly and clearly. Channel url
Entertainment – YouTube channels in Swedish
JLC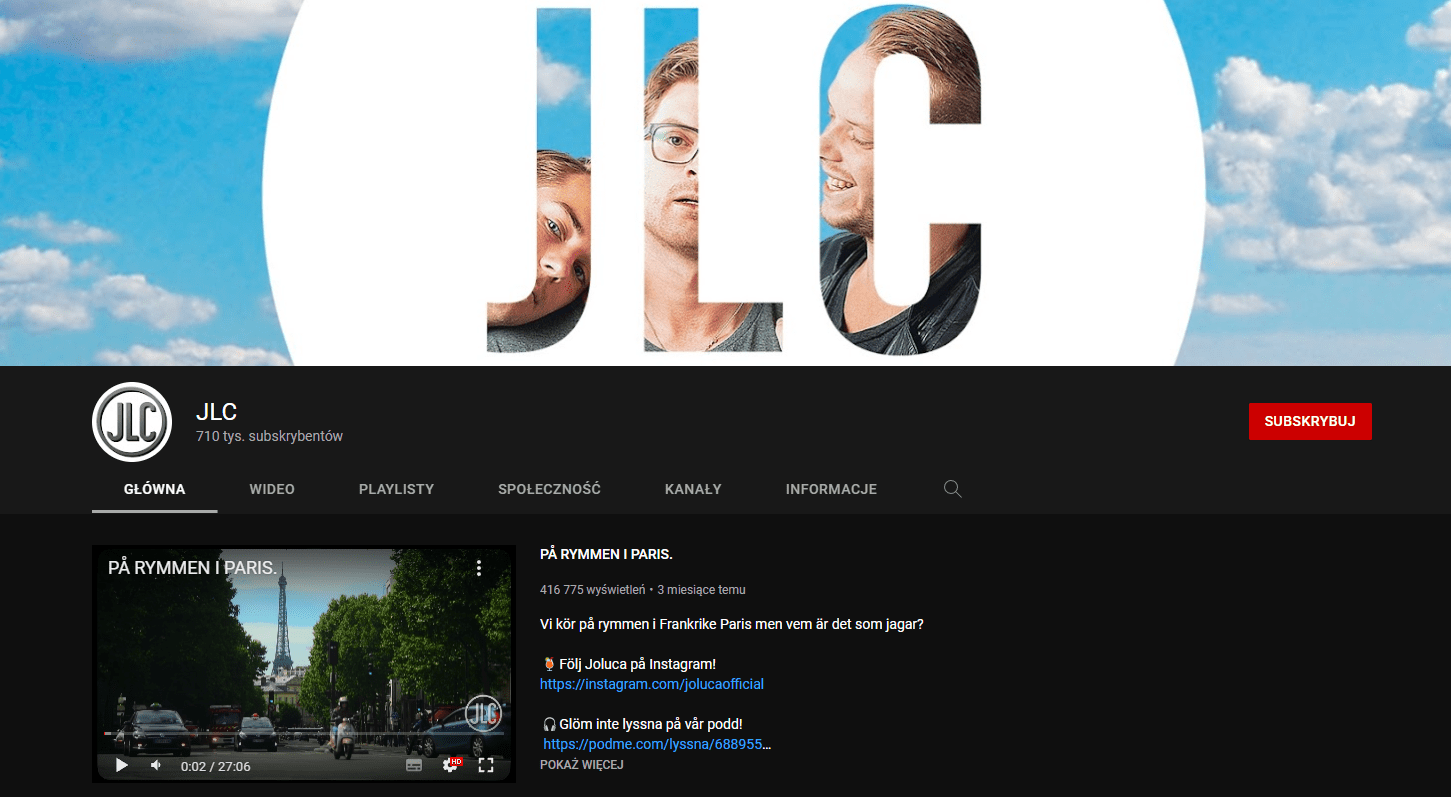 The channel is run by three guys with a wide range of topics under the banner of "Entertainment". You will find pranks, challenges, vlogs – some of them recorded while traveling, in various circumstances. The name JLC comes from the first letters of the channel founders – Jonas, Lucas and Carl. Unfortunately, the videos don't have subtitles, but you shouldn't have any problems understanding the content. Channel url
Uppdrag: Mat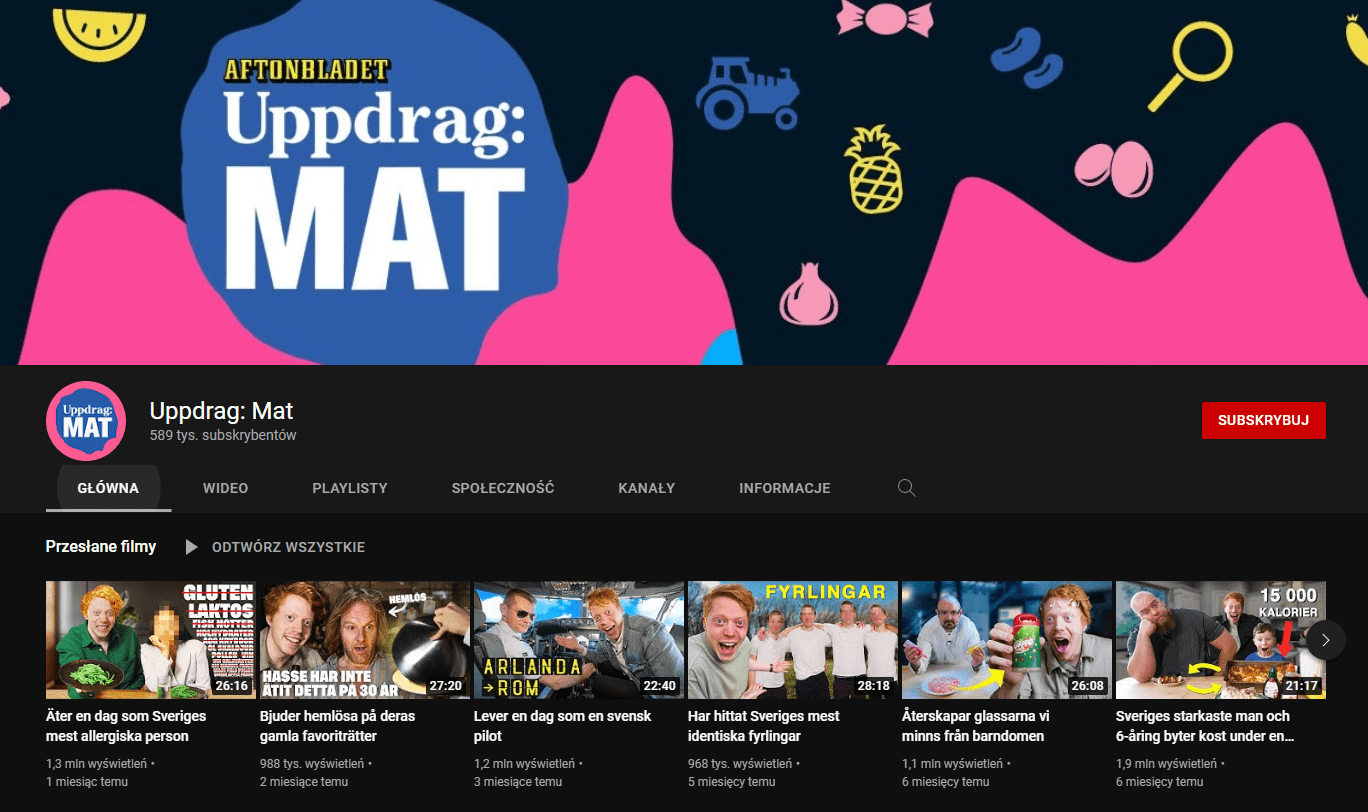 Channel operated under the brand Aftonbladet (Swedish newspaper). It is a typical entertainment place – I especially like movies from the "Day in the Life" category – the last one of this type was a day in the life of the Swedish pilot. If you want to know interesting facts about life in Sweden, culture, food and customs, I definitely recommend it. The facilitator speaks quite clearly and slowly (it can be different with his guests), so understanding shouldn't be particularly difficult. Unfortunately, videos don't have any subtitles. Channel url
IJustWannaBeCool2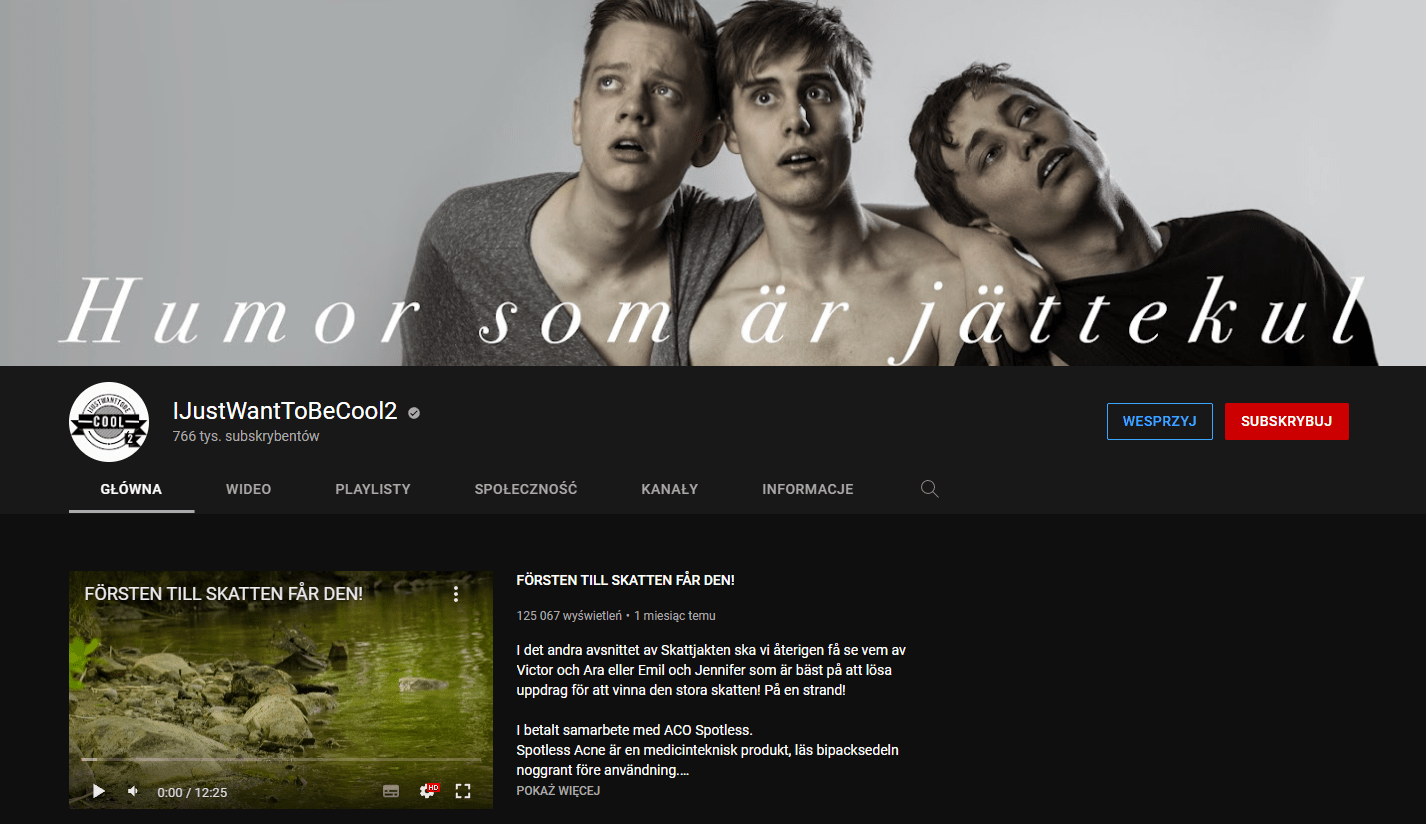 Entertainment channel run by Joel, Victor and Emil – it's one of the most popular Swedish-language entertainment channels on YouTube. Here you will find lifehacks (and lifehack tests), challenges, food tests and other videos in the field of broadly understood entertainment that will improve your mood and make eating even more pleasant 🙂 Humor, dynamic editing, high quality recordings and original ideas for films are something that should interest you. Channel url
Check out also their first channel, where you will find short fictional and entertainment films (as the authors themselves write – small, short films about tragicomic everyday life). Channel url
Travel – YouTube channels in Swedish
Amanda Berggren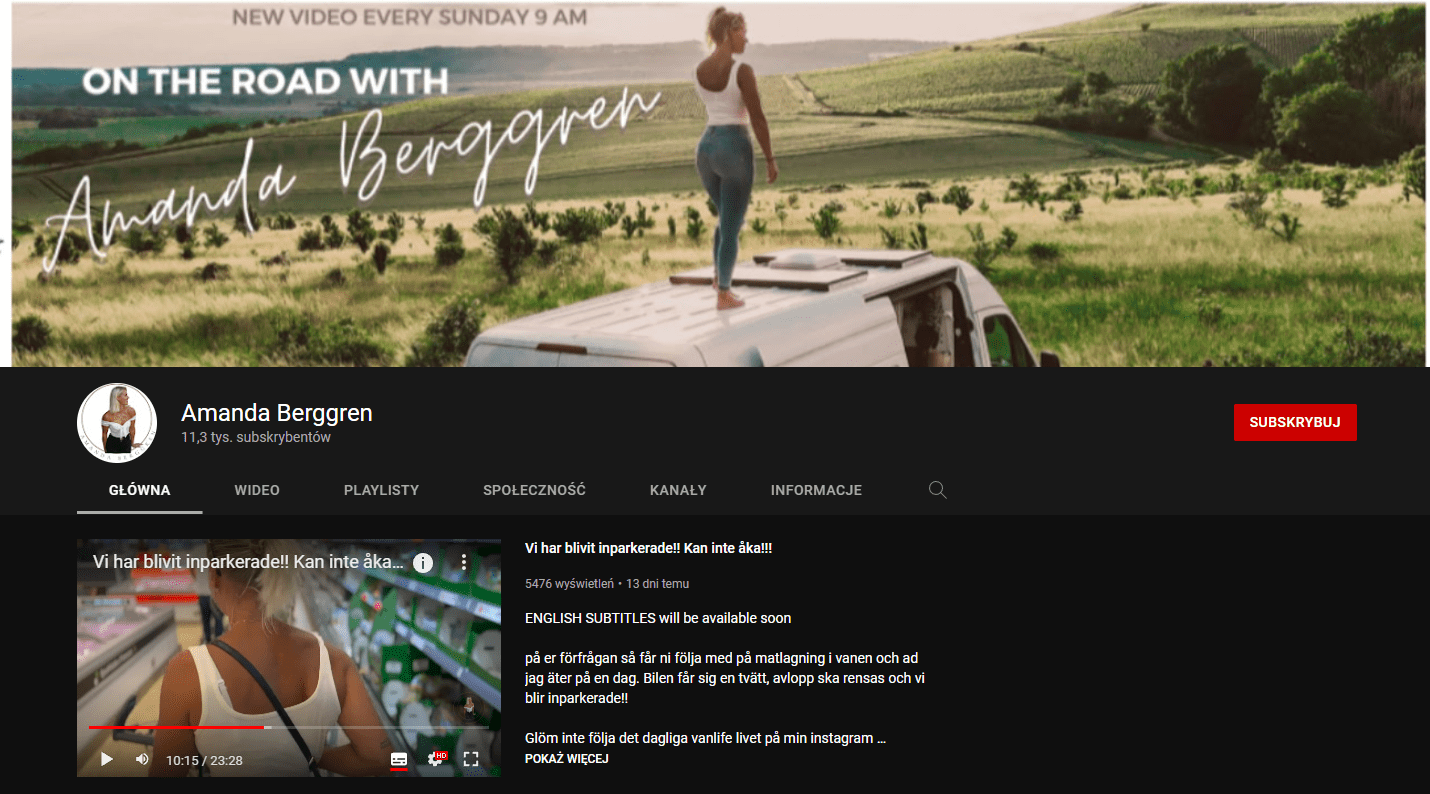 Vanlife in Swedish? Here you go! I invite you to travel around Europe with Amanda and her campervan. A new video comes out every Sunday. The films are recorded in Swedish, but there are English subtitles for each of the vlogs, so you can watch even if you don't know a word of Swedish.
Sandy Stadelmann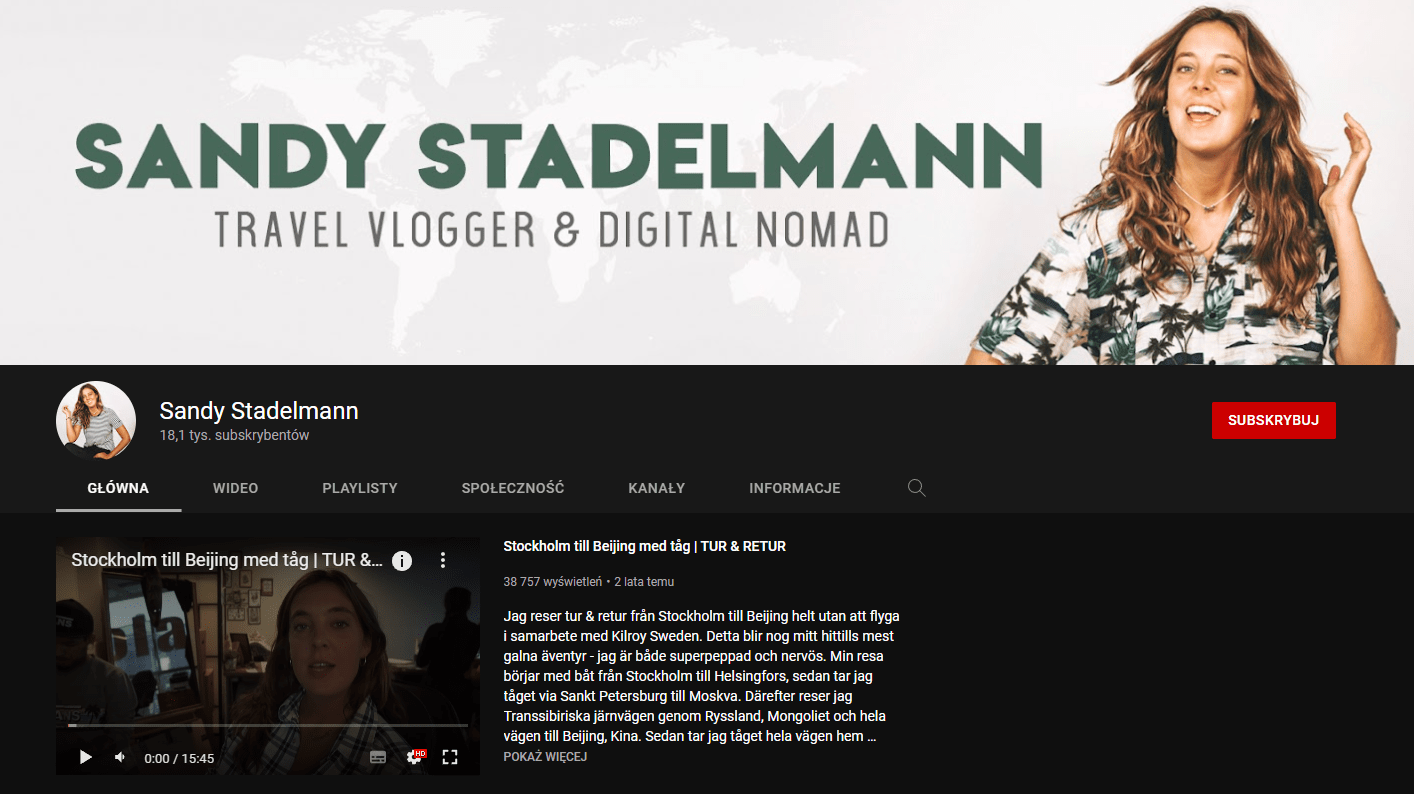 Unfortunately, the channel has been inactive for a long time (which is a pity!), But there are enough videos to practice your listening comprehension in Swedish. Sandy speaks slowly and clearly, so you shouldn't have a problem with the distinction between words, and it's definitely worth watching at least a few of the channel's most popular vlogs. I was especially interested in the series "From Stockholm to Beijing by train". Channel url
Peter Persson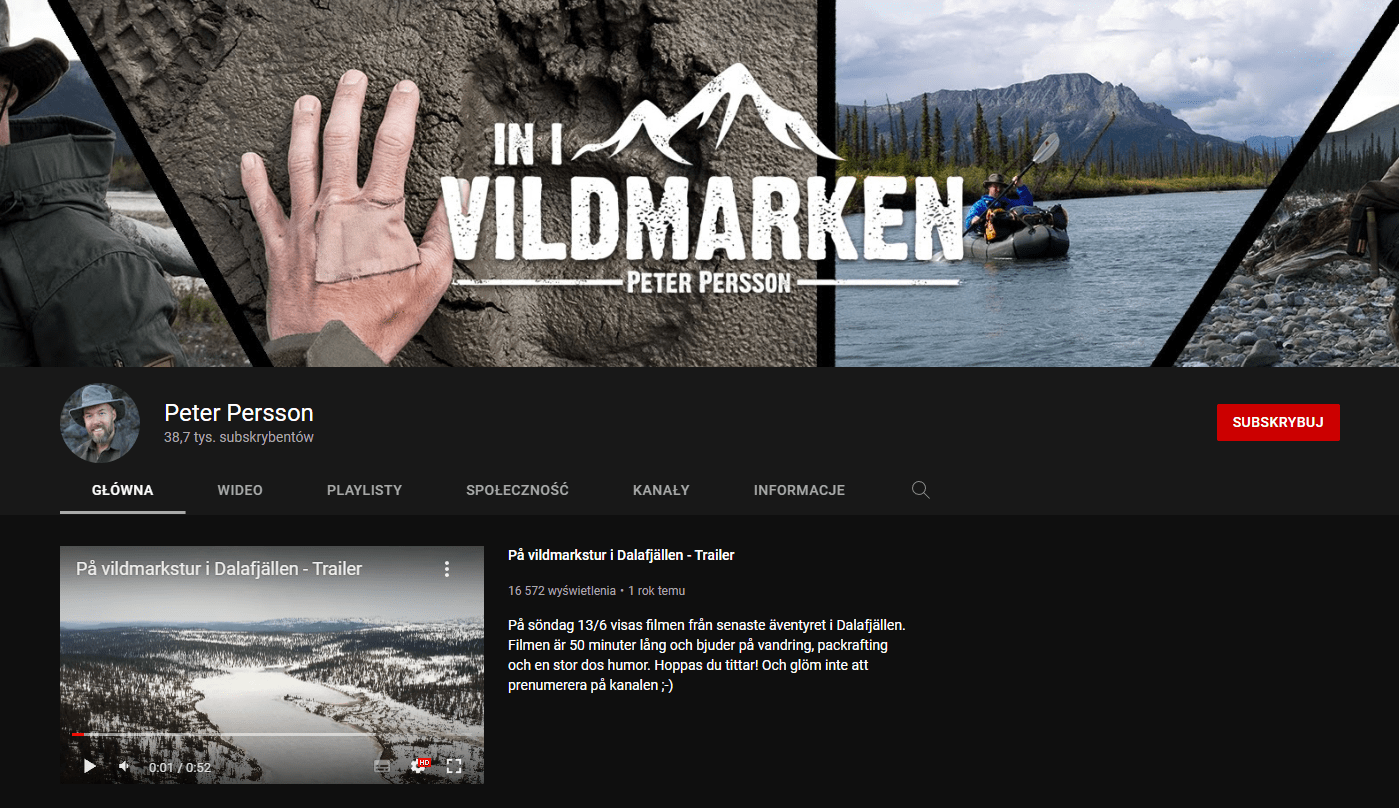 Lonely hikes, picturesque trails and breathtaking Swedish (and not only) nature. You can find it all on this channel. If you like hiking, you will love this channel. In addition to the travel diary, the author of the channel shares valuable tips that will be useful when planning your own trips. Channel url
---
As I mentioned, the above list will be expanded. If you have your favorite channels in Swedish that I haven't listed above, be sure to share them in the comments! 🙂
Check also