One of my culinary dreams was to try a steak served on a lava stone one day. During our last stay in Wrocław, we decided to go to Whiskey in the Jar and try their famous drinks in jars and, indeed, steaks.
Location and reservations
Whiskey in the Jar is located in several cities, among others, in Poznań, Łódź, Warsaw and Gdańsk. The restaurant in Wrocław is located in the Market Square, at number 23-24. The seats inside can be booked on weekdays, and you have to rely on luck on weekends. We went for a late dinner on Sunday, but we didn't wait long for a table (about 10-15 minutes).
Menu and prices
Whiskey in the Jar specializes in American cuisine – you will find here mainly burgers, steaks, but there are also other popular dishes, such as ribs. As the name suggests, the main items on the menu are whiskey-based drinks, served in large jars.
Grilled steaks and meats are served with two additions to choose from (one add-on for each group). The first group of additives includes typical carbohydrates – steak fries, potatoes, puree or rice. The second group of additives is "vegetables" – a mix of salads, grilled corn, beetroots with feta cheese and sugar peas with tomatoes.
The prices of burgers range from 39-69 PLN (all are served with steak fries), steaks cost 69-119 PLN in a specific weight portion (steaks are also available by weight, e.g. T-bone or tomahawk, roast beef and entrecote with bone ), and you will pay PLN 49-69 for grilled dishes.
Drinks in jars
We went to the restaurant with Bolt – we really wanted to try the famous drinks in jars.
I ordered the Fantastic Jar with strawberry mousse. It was sweet with a slight citrus aftertaste. Parents decided on El Matador Jar. In addition to lime, fresh orange and mint leaves, it contained elderberry syrup and was by far the most refreshing. Tomek decided on the Blue Viagra Jar – I don't know if it was because of the color or the spider jelly (in the end, it turned out that the spiders ended and there are only dolphin-shaped jellies available). When asked for a comment, he said "good".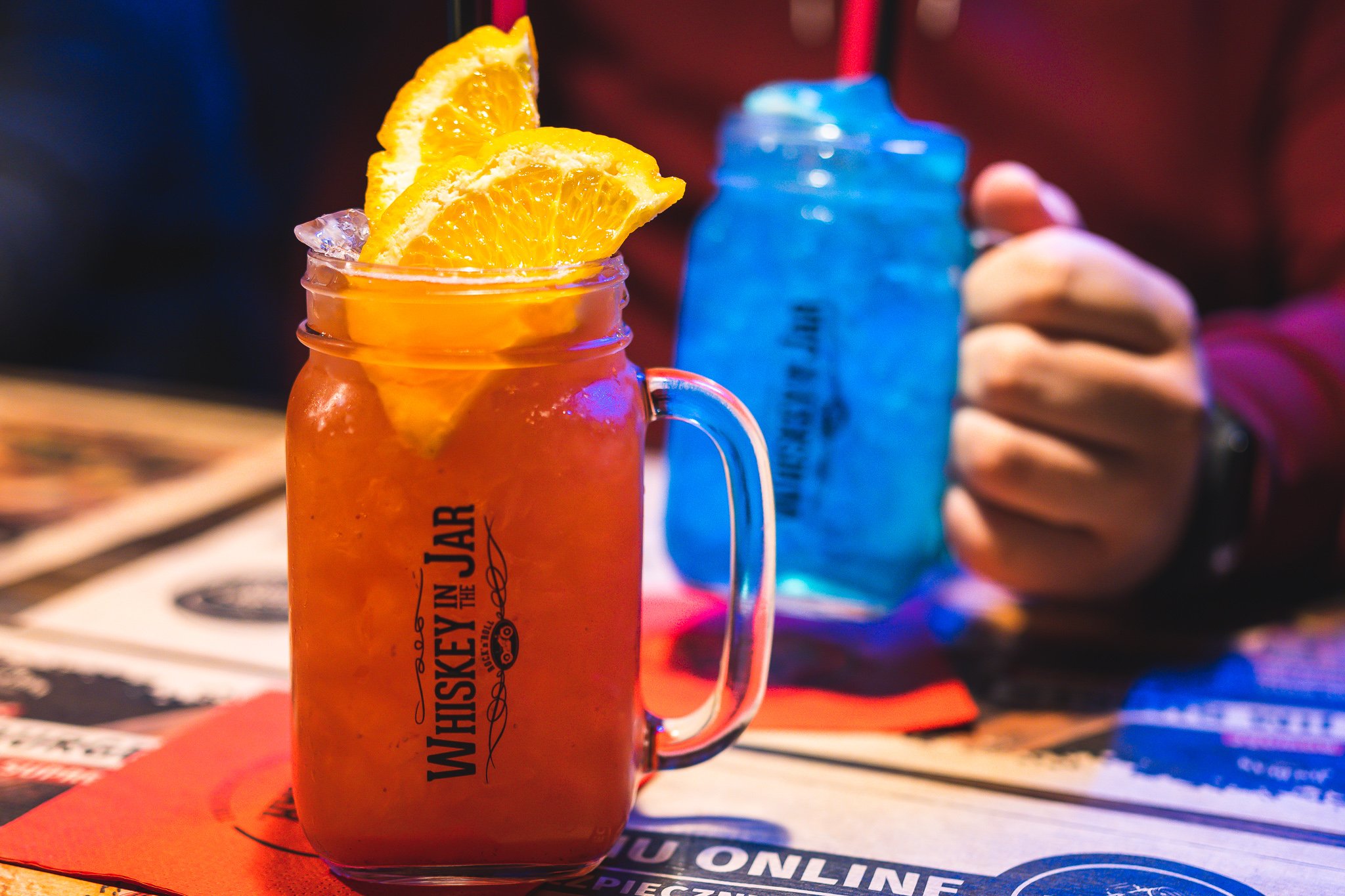 Food
We decided to go a little crazy and started our adventure with eating in Whiskey in the jar with starters. Before we got our order, however, we received a popcorn mix in various flavors (regular, buttery, caramel). It was tasty and matched the whole atmosphere of the restaurant nicely.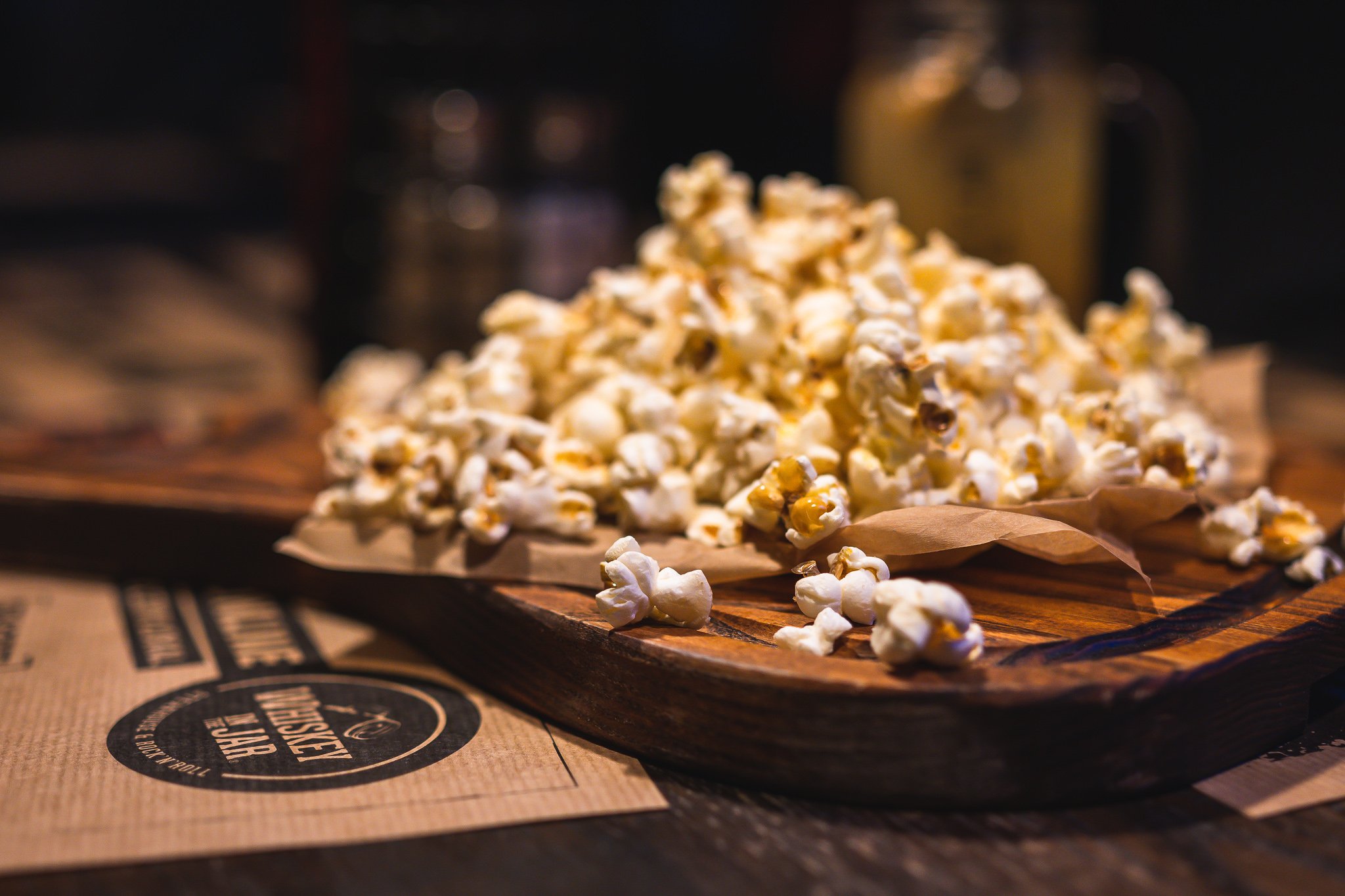 I ordered bruschetta for an appetizer. In addition to traditional tomatoes with garlic, it also included pesto and feta cheese. I admit that it was an interesting and surprising combination. Especially that the feta was very delicate and did not taste like the feta products from the store. It was creamy and delicate, melting in the mouth.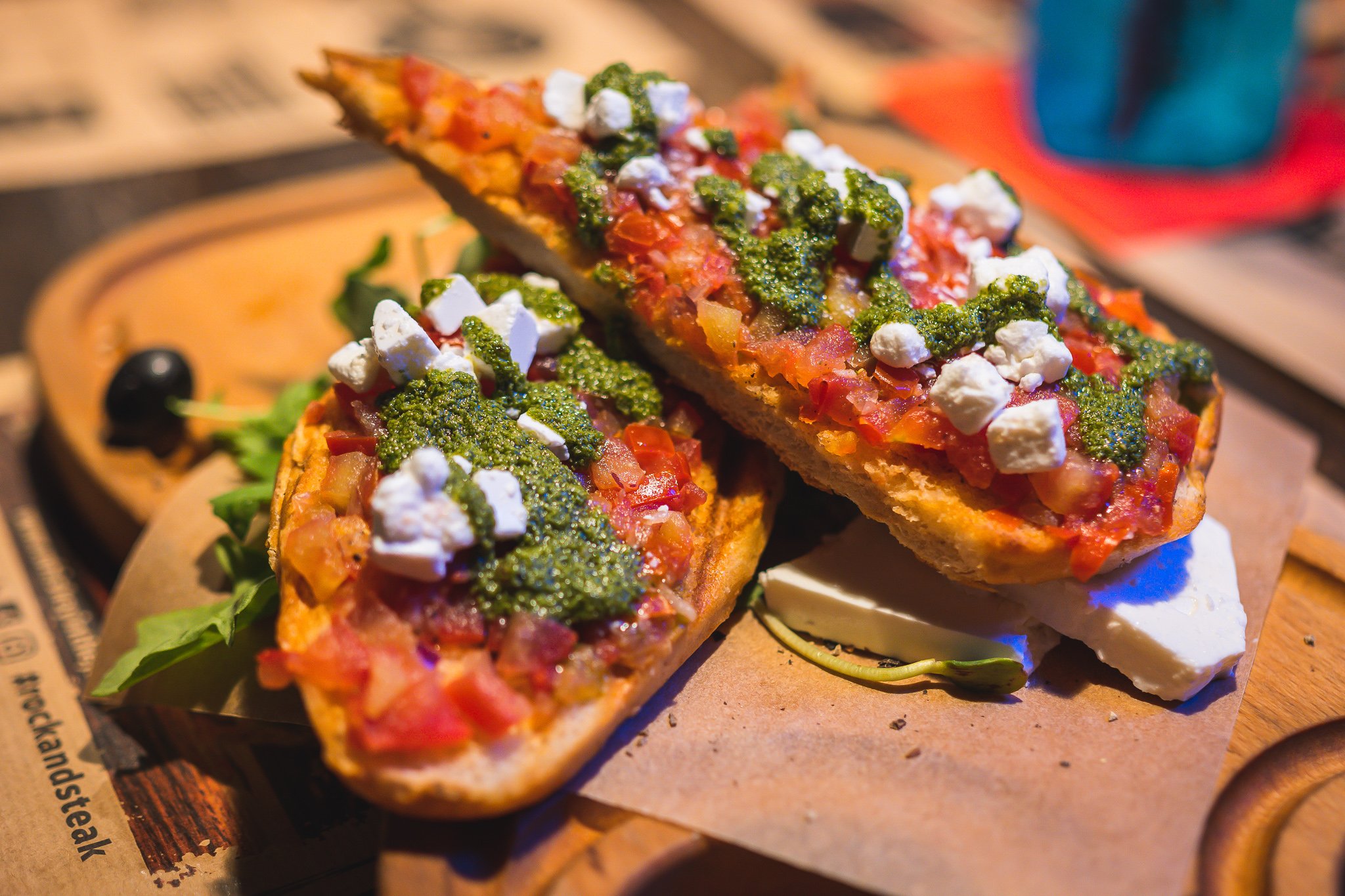 It's time for the main courses. Of course, I decided to try a steak (rare) on a stone with steak fries and a mix of salads. I am glad that I chose a slightly lower degree of browning, because on the stone the steak very quickly reached medium rare, and the last bites were already completely well-done. The steak was delicious – melt-in-your-mouth, soft and juicy. The toppings complemented it perfectly, and the fries combined with bourbon-based BBQ sauce tasted like a dream. The portion was the perfect size and I ate it just right.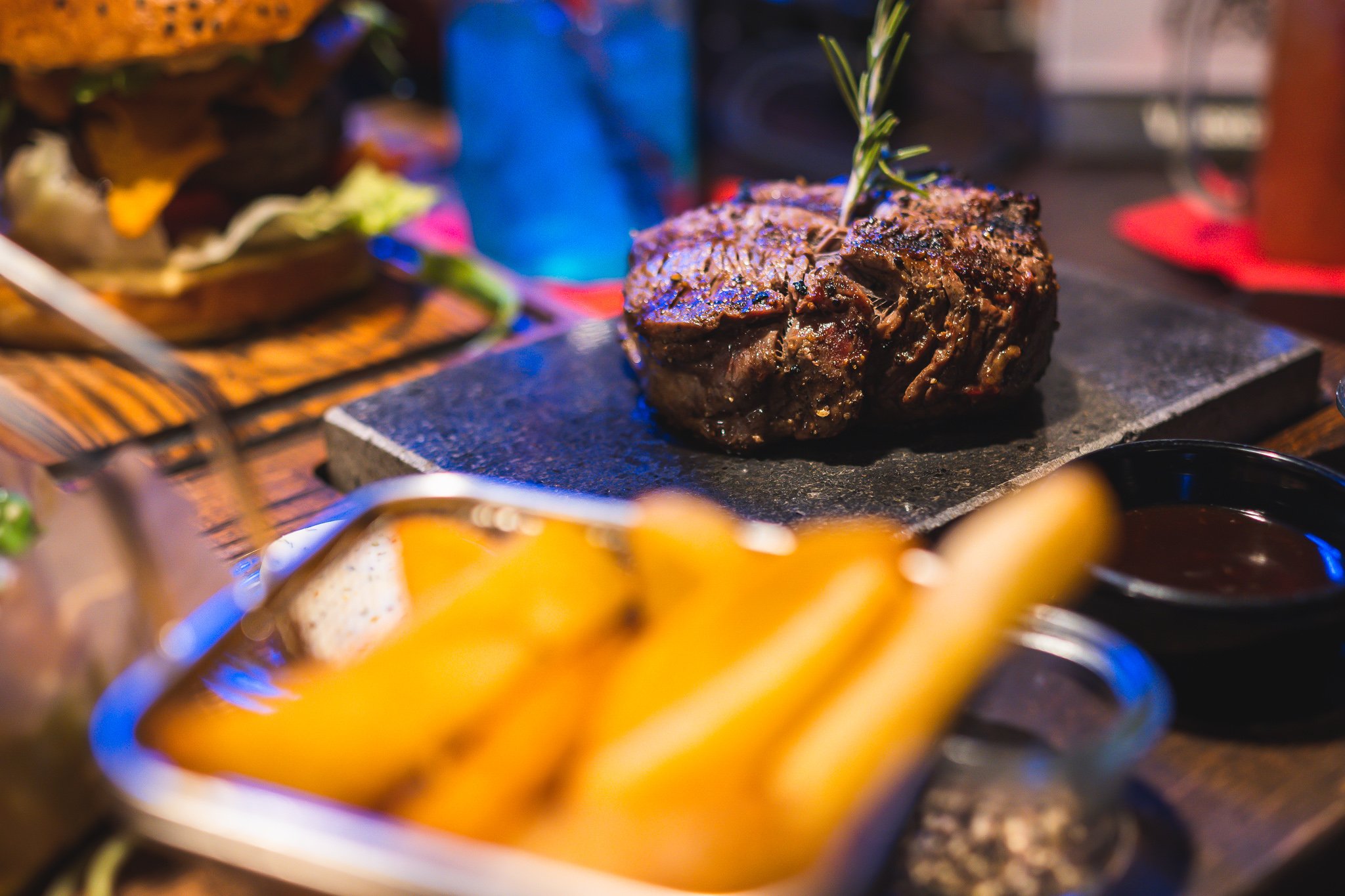 Tomek and my dad chose the largest burger on the card whish was Jim Beam with the addition of nachos, onion rings, peperonata and truffle mayonnaise, with an extra 300-gram portion of beef. It was a solid burger, with steak fries served as an accompaniment. The burger is served very effectively, with a knife stuck in the middle instead of a typical toothpick.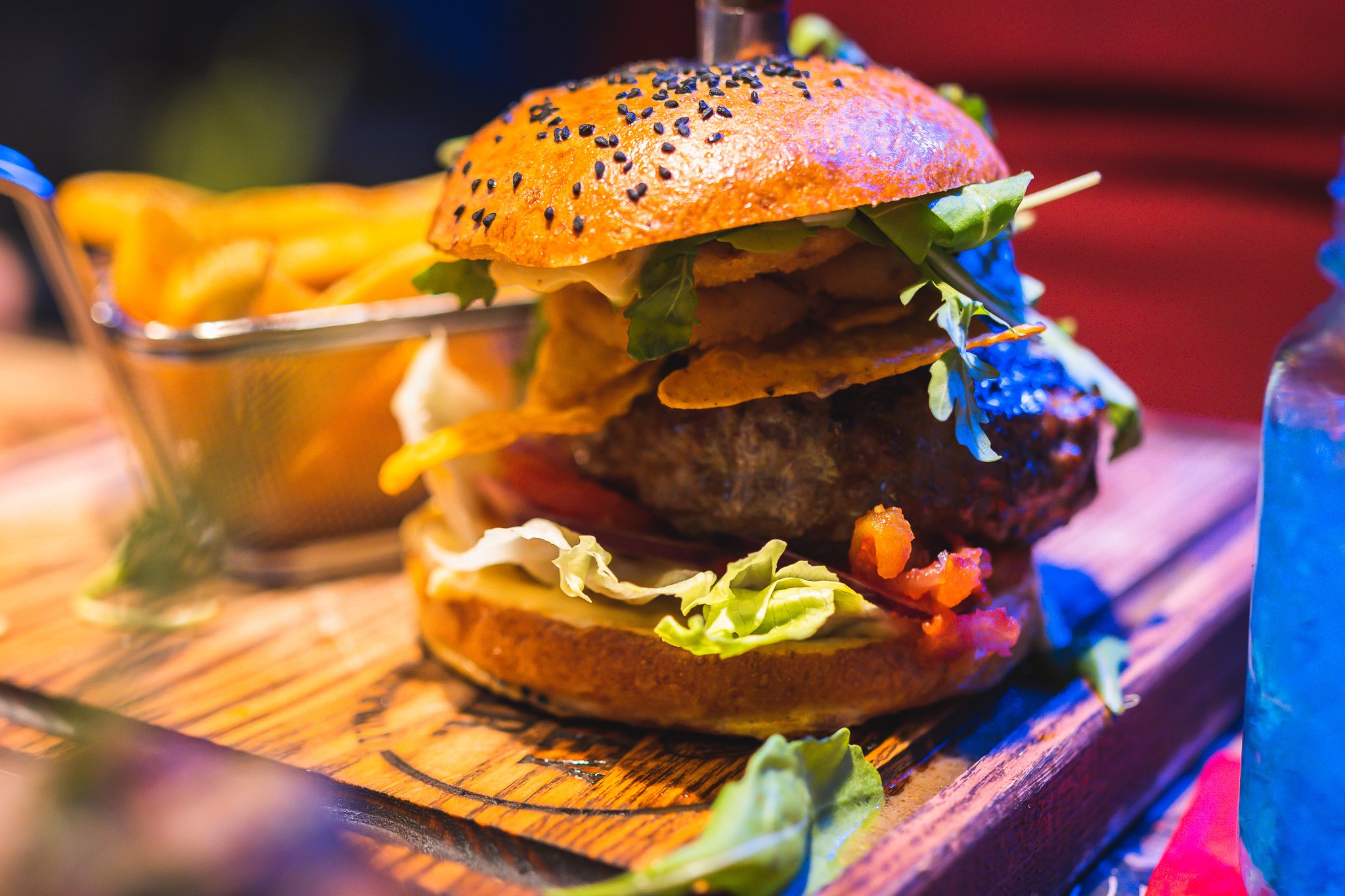 Mom (with my slight suggestion) chose grilled BBQ ribs. I can say that the portion was impressive. As side dishes flew in steak fries and sugar peas with cherry tomatoes. My mother remembers this dish very well, but ultimately wished she had taken the steak. The meat was seasoned very well, a bit too much sauce for my mother, but I think by everyone else's standards, the sauce was just right 🙂 It came off the bone well and was just delicious.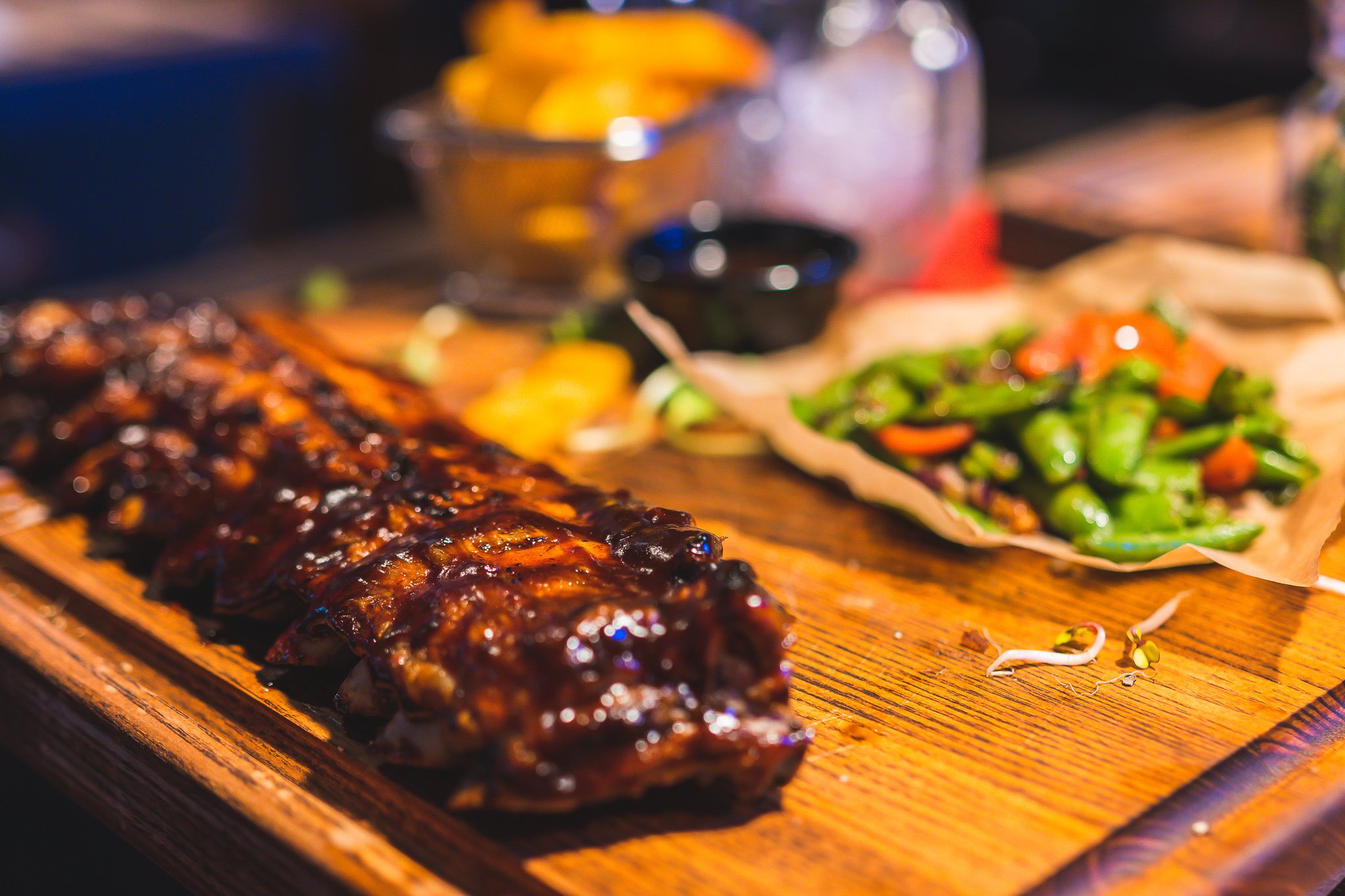 ---
Summary
Whiskey in the jar is a very comfy place. It is perfect for a date, an evening with friends or an interesting dinner with loved ones or family. The type of dishes and their way of serving make that not only their taste counts, but also the entire experience, and I think it is worth paying a little more for this. I think we will be going back on more occasions.
Location: Rynek 23-24, Wrocław, Poland
Google Maps Coordinates: 51.1092008, 17.0321373
Website: Whiskey in the jar