This week is special for the Christian community – on Sunday we celebrate Easter. But do you know how people celebrate Easter in Sweden? Stay with me and find it out!
Easter in Sweden
Påsk (Easter) is important mostly in the Christian community but for others is mostly about celebrating spring, meeting with their friends and families and spending time together with loved ones. Although Christian celebrations start with Palm Sunday (palmsöndagen), the most important days are:
Skärtorsdag (Maundy Thursday);
Långfredag (Good Friday);
Påskafton (Holy Saturday) – which is also the main day of festive celebrations;
Påskdag (Easter Sunday);
Annandag påsk (Easter Monday).
The main day (and evening) of celebration is Holy Saturday, called in Sweden påskafton – Easter Eve.
History of Easter Celebrations
In 1844, Sweden started to celebrate Easter according to the Georgian calendar and it was considered strongly a religious event. Good Friday was a silent day – banks, cinemas and other public places were closed, and it was time to contemplate and relive Christ's death. This started to change in the 1970s when Nordic, Christian and folkloric traditions started to blend. This leads to the Easter we know today.
Symbols of Easter in Sweden
Påskkärring
To the rest of the world, this tradition would be considered more Halloween than Easter. Kids dress up as "Easter witches" (påskkärringar) and walk from home to home, wishing "Happy Easter!" (Glad påsk!), presenting paintings and drawings and getting sweets in exchange.
The concept of witches during Easter comes from Middle Ages when witches were executed for witchcraft. It was once believed that during Easter witches travel to Blåkulla Island to meet with the devil himself.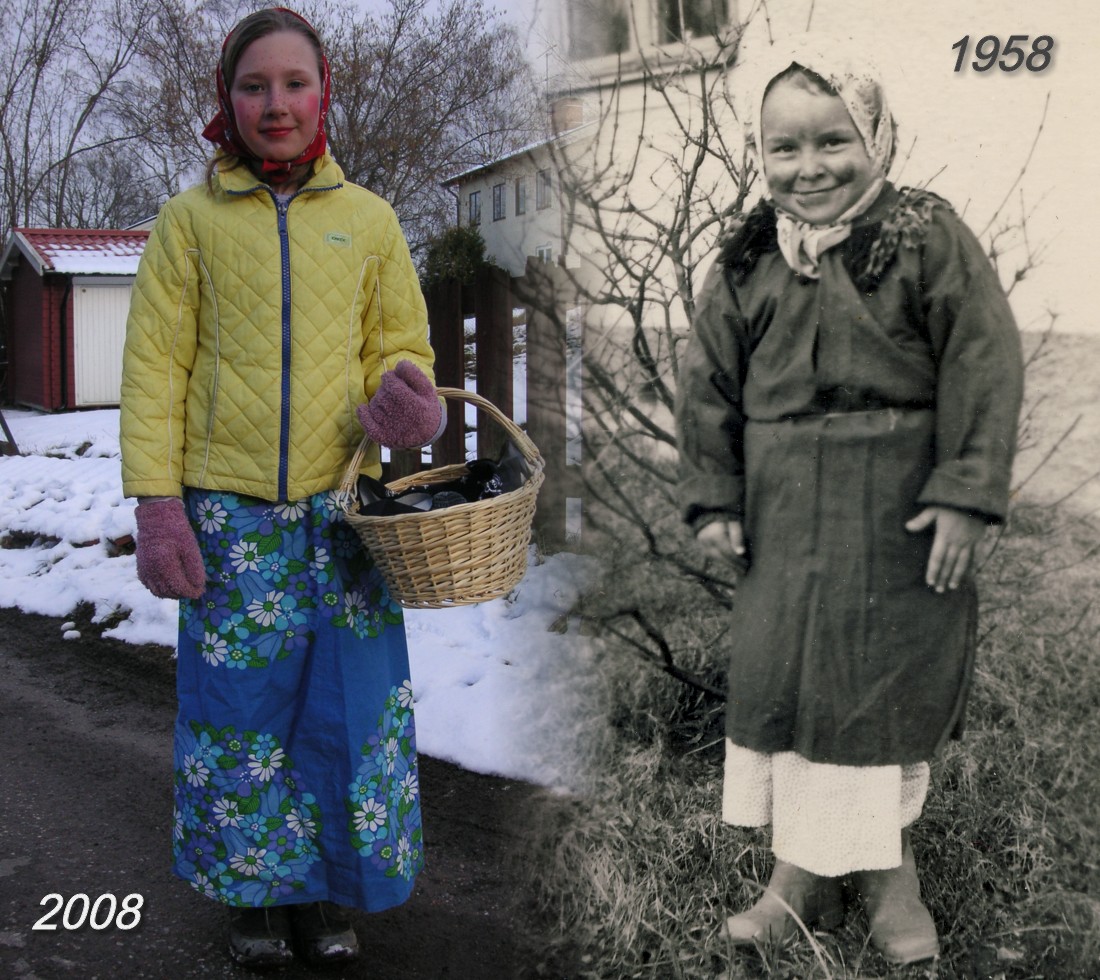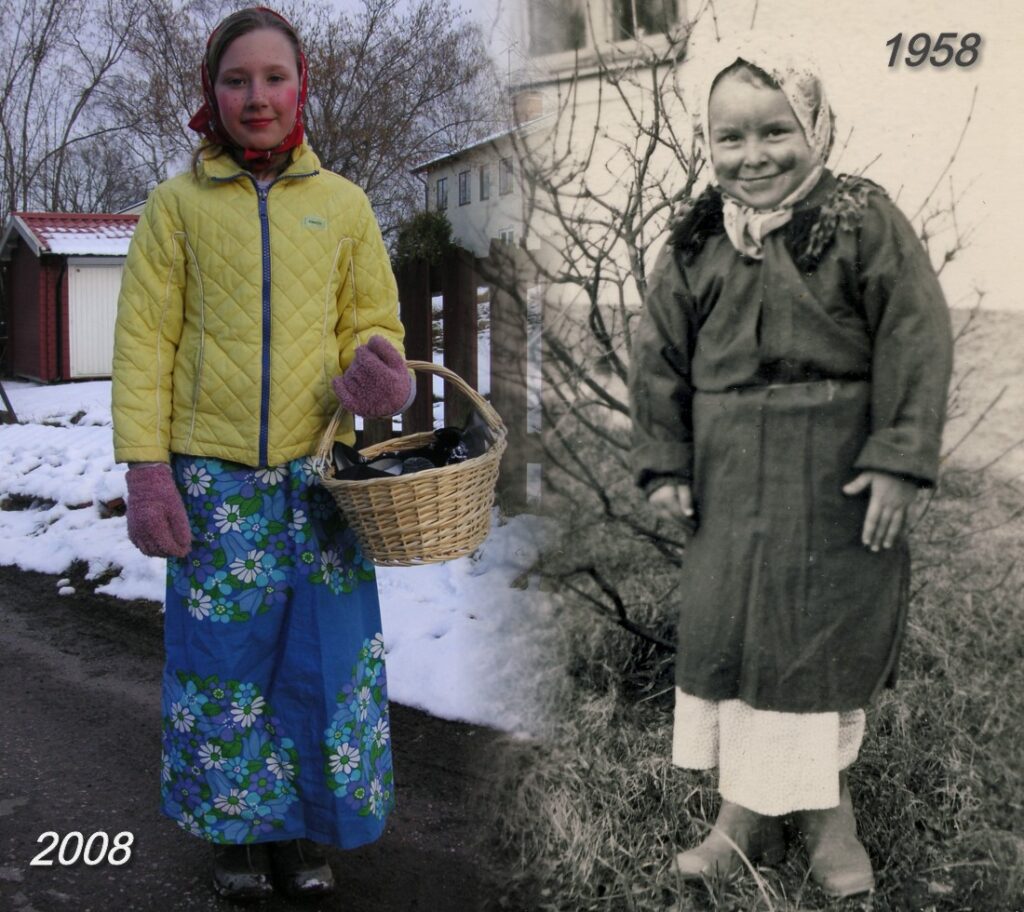 Påskris
Easter in Sweden can't happen without the Easter equivalent of a Christmas Tree. This tradition comes from the XVIII century's fastlagsris custom. At that time, the father of the house whipped the rest of the family with a birch twig. This is supposed to be a reminder of Jesus's suffering. It happened mostly on skärtorsdag or långfredag. Over the years, twigs became more decorative and now we can see them all over the streets.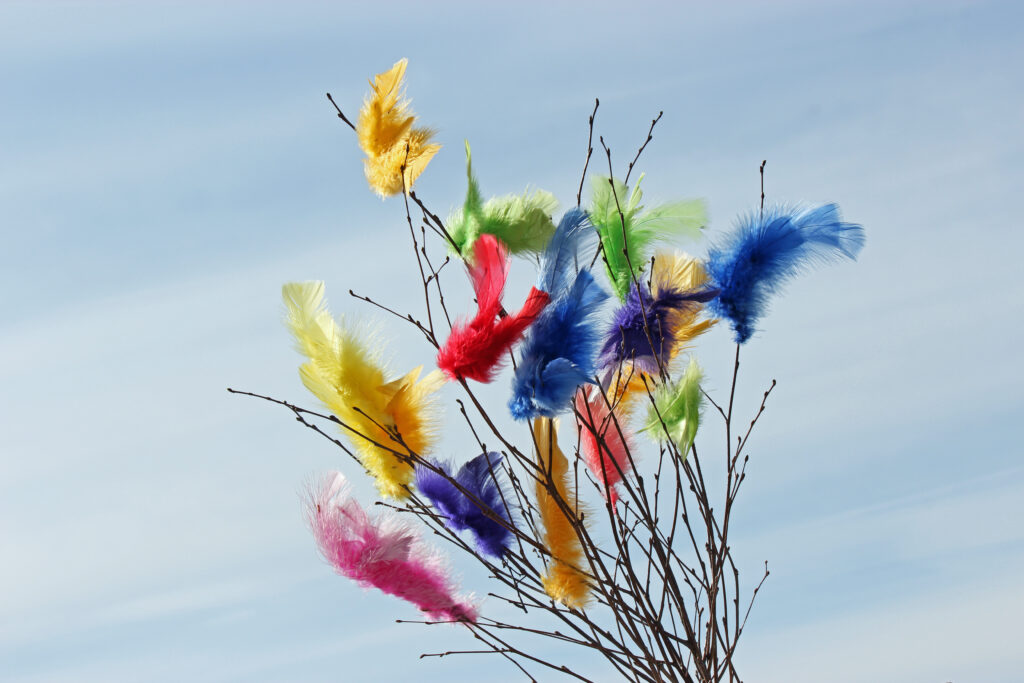 Birch twigs are now decorated mostly with colourful feathers (påskfjädrar) which appeared in the middle of the XIX century and became common in the 1930s. However, due to feathers being natural, yearly more and more municipalities announce "fjäderfri påsk". It's promoted to use other, environmental-friendly decorations that don't violate animal rights – see the example below.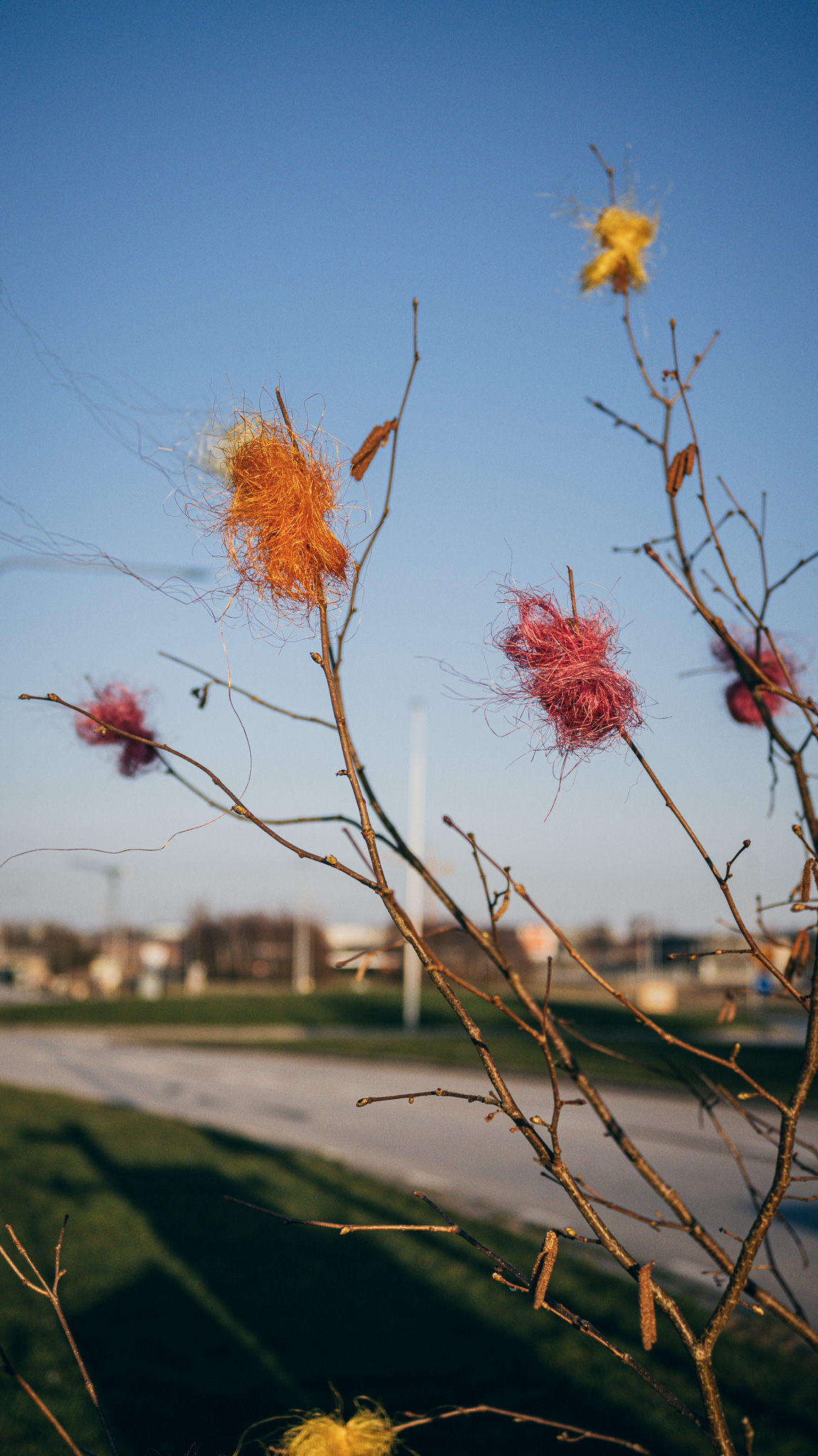 Påskmust
Typical Swedish, famous soda. Its Christmas version is called julmust. It's basically the same drink that gets different branding, depending on the time of the year. It's sparkly and was invented as a non-alcoholic alternative to beer. It consists of carbonated water, sugar, spices, hop and malt extracts, caramel colouring, citric acid, and preservatives. That mixture gives the drink a taste similar to root beer.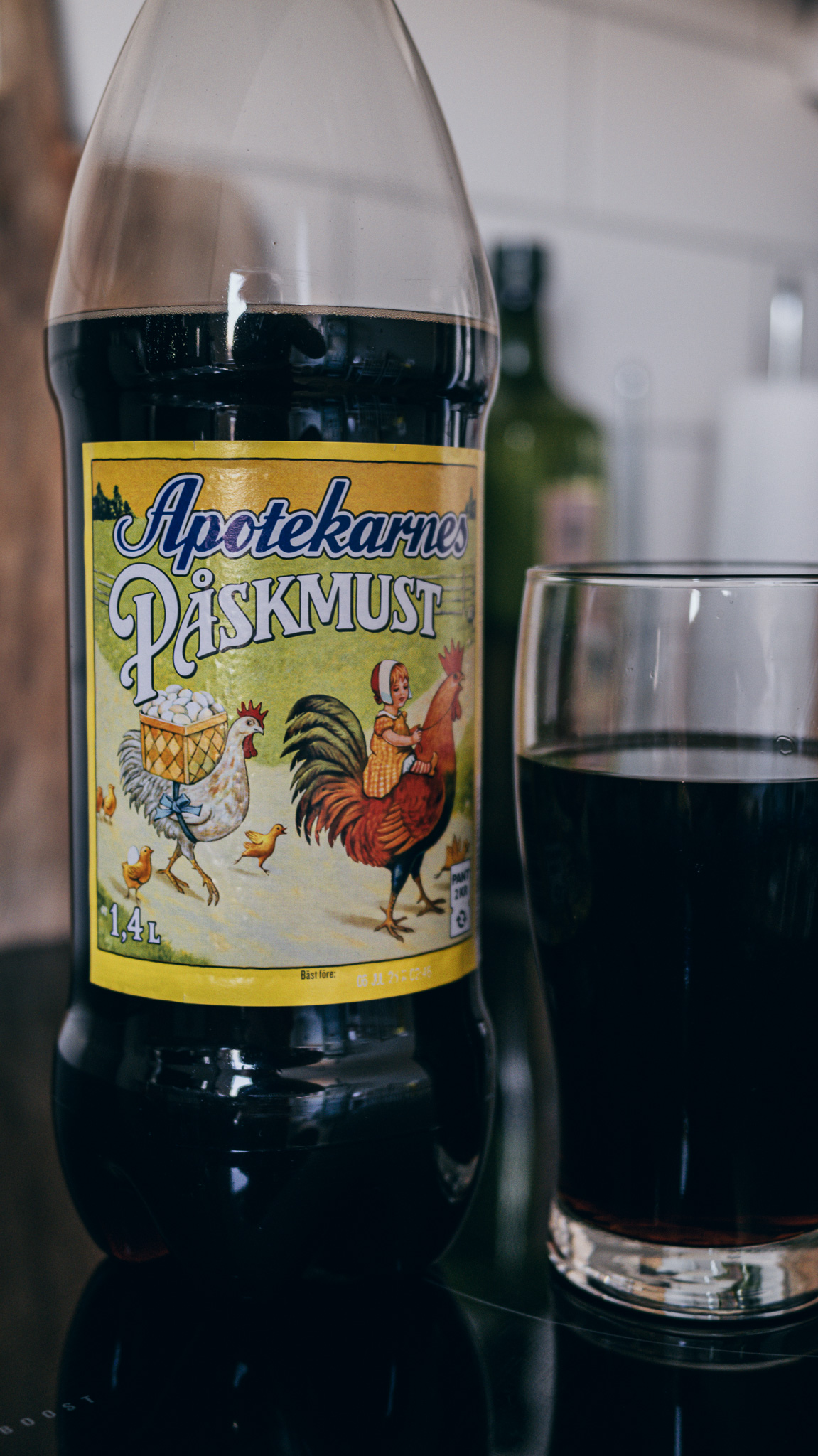 Påsklilja
Their Swedish name comes from the time of the year when they bloom and are available in the stores. The English name of those flowers is the daffodil. They start appearing in late March and are visible until May. They are often decoration on the Easter table and lawns throughout the cities. They're not only one of Easter symbols but also a sign that spring is here.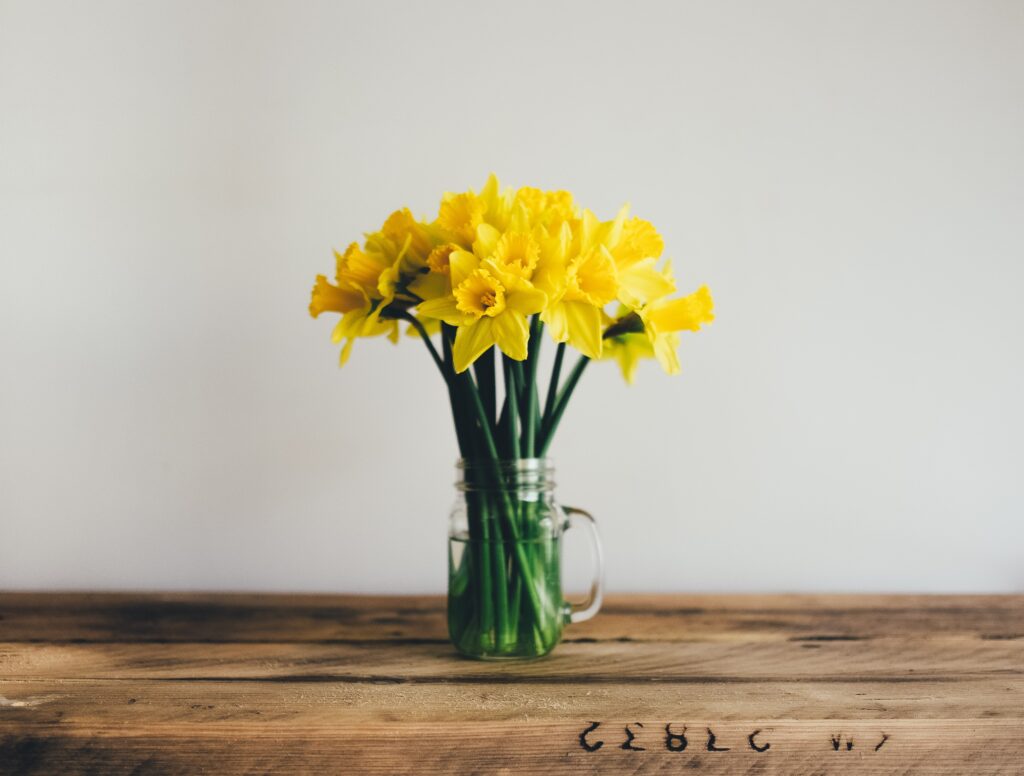 Påskbord
It often shows up at work. Analogically to Christmas julbord, is a chance to meet with colleagues before Easter, spend some time together and integrate the team. The literate translation is "Easter table". Some must-haves on this unique buffet are eggs, pickled herrings, and salmon. However, the menu may vary from påskbord to påskbord.
Påskägg
Another tradition during Easter in Sweden is preparing Easter eggs filled with sweets and candies. Long before Easter itself, stores fill with paper mache-like eggs that are empty inside and can be stuffed with sweets by the parents (it's worth mentioning that candies sold by weight are common in Sweden all year long). Those eggs are later a gift for children.
Easter food in Sweden
Easter in Sweden can't happen without certain dishes on the table. Besides cold appetizers that often appear on påskbord buffets, Swedes eat some hot dishes. The most popular ones are Jansson's Temptation (Janssons frestelse – casserole with potatoes, onions, anchovies and cream), Västerbottenpaj – quiche filled with extra mature Västerbotten cheese and Easter lamb which was introduced on Swedish tables in the XX century, in reference to Jewish tradition.
As it goes to alcohol, Swedes often choose "snaps" or "bränvinn" which are drunk as shots. Basically, it is vodka spiced with herbs and different spices. Personally, they are not my favourites but it was an interesting experience to try. If you ever have a chance and mood, I'd recommend it.
Working hours and days off
Långfredag, påskdagen and annandag påsk are what we call "red days" (röda dagar). This means they're days off from work and if you work anyway, these days are extra paid. But this doesn't mean that all stores and businesses are closed.
If you want to buy alcohol, it's more than certain that Systembolaget would be closed (as it is on all red days). During påskafton Systembolaget is open until 3p.m. Closed are also all offices and most of the businesses.
However, this doesn't apply to stores and restaurants. Most of them are open during all Easter days. Different opening hours may apply (closing earlier or opening later) so you have to check every time before you go somewhere but it's not like in some European countries where you don't have any chance to buy groceries during Easter weekend. That's good news for tourists visiting Sweden during Easter – you can enjoy your stay and explore local flavours, wander around cities and take advantage of the more and more beautiful weather.
Sources