Today in Poland we celebrate the feast of all gourmands – Fat Thursday. Before you turn 100% into donuts and crisps, I'll tell you about the Swedish equivalent of the day, Fettisdagen – Fat Tuesday, which we will celebrate next week.
Fettisdagen – Fat Tuesday
The Swedish Fettisdagen always falls on the last day before Lent begins (in 2022 it will be March 1st). Alongside Fläsksöndag (Pig Sunday) and Blå Mondag (Blue Monday), it prepares Catholics for the upcoming fast.
Where did these names come from? The fläsksöndag seems to be self-evident – when available, pork was cooked on that day. The records from Dalarna from 1913 speak of eating potatoes, pork, and root vegetables. In Öland, Gotland and in Småland, cakes stuffed with pork were eaten. In Uppland, Södermanland and Värmland, fatty, boiled pork legs were traditionally eaten. In Ångermanland, on the other hand, it was believed that seven-course feasts should be eaten, including cooked pork with sauce, baked in festive bread, which was kept from Christmas especially for the occasion.
Blå Mondag was a day off and churches were decorated in blue. This is probably where the name of this Monday comes from. In industrialized Sweden, the name jokingly referred to Mondays where employees missed work due to partying.
Fat Tuesday itself was also called White Tuesday (for the color of wheat flour), however, the name probably came about later because white flour was not widely available.
Semla – traditional baking on Fettisdagen
Around Fettisdagen, more and more semla, the traditional sweet rolls eaten on that day, are starting to appear in stores. Semla is for Swedes what a donut and faworki on Fat Thursday are for us in Poland. What is semla and what is its history?
Semla – history
Traditionally, the semla was served in a deep plate dipped in warm milk. In this form, the dessert was already known in ancient Rome, and from there it came to Germany. The oldest mentions of semla in Sweden come from 1541 (Gustav Vasa's Bible). It is believed that semla appeared in Sweden thanks to the first wife of Gustaw Vasa – Catherine of Saxe-Lauenburg, who was German.
Fun fact: An unfortunate accident happened in Fettisdagen in 1771. The King of Sweden, Adolf Frederick, after eating a hearty meal, also ate a large number of semlas for dessert. Unfortunately, he later suffered stomach cramps and died. This incident may have made semla banned, and the term 'king killer' would be clung to them forever. Count Johan Gabriel Oxenstierna came up with such a proposal, but it did not gain social acceptance.
Semla – the origin of the name
The name semla comes from the word semila meaning the finest type of flour. Originally, all wheat rolls were called so, and the present semla was called fastlagsbulle. Semla dipped in milk, on the other hand, was called hetvägg, which comes from the German language (heisse Wecken – hot wedges). The term was derived from the wedge-shaped form of buns at the time to make them easier to place in the saucepan.
Semla today
At the moment, semla is most often served like any other cakes, without the addition of milk. It looks like a puff with lots of cream. In fact, the type of cake and filling varies from region to region. The most popular variety is a sweet wheat roll with cardamom, cut in half and filled with almond mass and whipped cream, sprinkled with powdered sugar on top.
In addition, as part of the variation on semla and Polish donuts, the Swedish embassy in Poland publishes a recipe for 'semlączki' by Michał Godyń (chef at the residence of the Swedish ambassador). You can find the recipe at this link.
Confectioneries and shops are full of semlas from the end of January / beginning of February. You can get the classic version, but also lots of variations on them. W've seen already traditional filling, but closed in French croissants, but also wheat rolls filled with whipped cream and jams in various flavors, and even… nutella.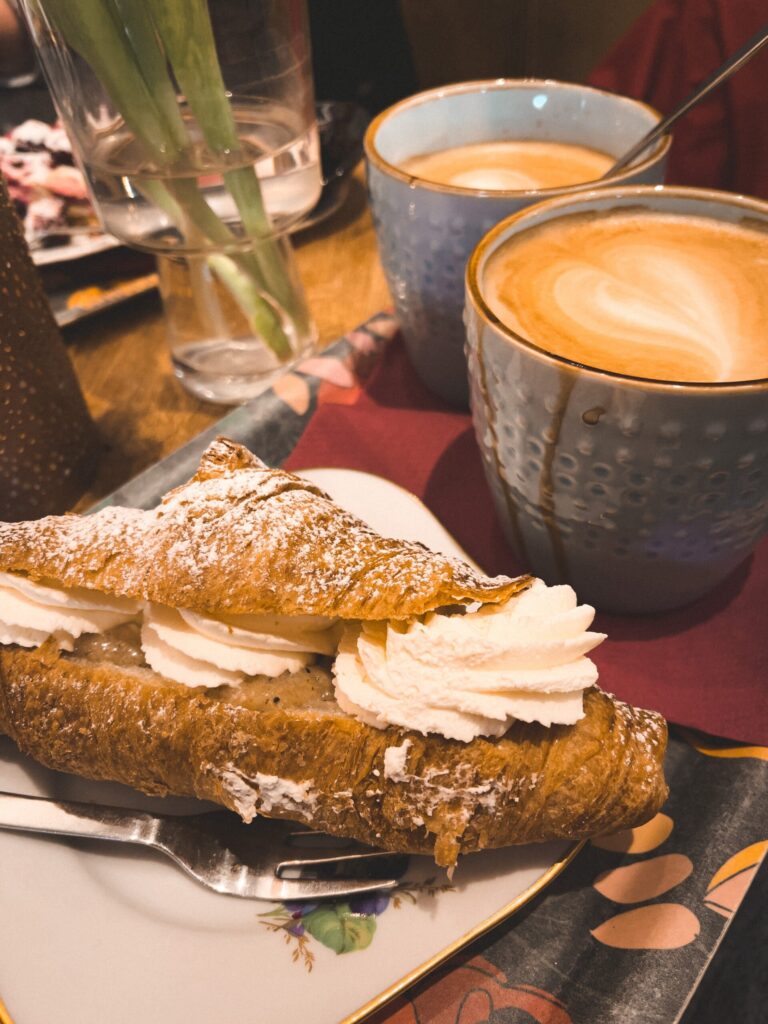 ---
Fettisdagen is another opportunity to stuff yourself with sweets and another cake that you can enjoy during fika, so it's celebrated universally and willingly 🙂 We started celebrating a few weeks ago, testing semle in various places to have a favorite when the holiday comes.
Unfortunately, I don't know where you can try semla in Poland, but if you find it, I encourage you to test it 🙂