Until now, I rarely chose WizzAir as my carrier – I flew with Ryanair much more often, unless there was no other option. However, when I was going on my last trip to London, only WizzAir offered flights at convenient times for us, so without thinking long, I started the booking.
So far, I've avoided WizzDiscount Club with a wide berth – it didn't seem to me that something for which I have to pay extra significantly affected the price of tickets, especially since I fly once a year on average. Nothing could be further from the truth.
How does WizzDiscount Club work?
It is a service that can be purchased for a period of one year and, depending on the size of the group, costs EUR 29.99 for a member and one accompanying person or EUR 59.99 for a member and 5 accompanying persons.
Participation in the program allows you to take advantage of a minimum 10 euro discount on tickets, a 5 euro discount on checked baggage, as well as access to special offers (which I have not used yet, but for example, tickets for winter 2019 are currently on sale only for program participants). The discount applies to the participant and 1 to 5 companions traveling on the same booking, according to the tariff purchased.
Important! WizzDiscount starts when you book your first trip in the program and not on your first departure. This is important because we usually buy tickets 2-3 months in advance.
How to buy WizzDiscount Club?
It's very simple – much simpler than I've thought all these years. When booking tickets, the system will ask you if you want to save on this trip.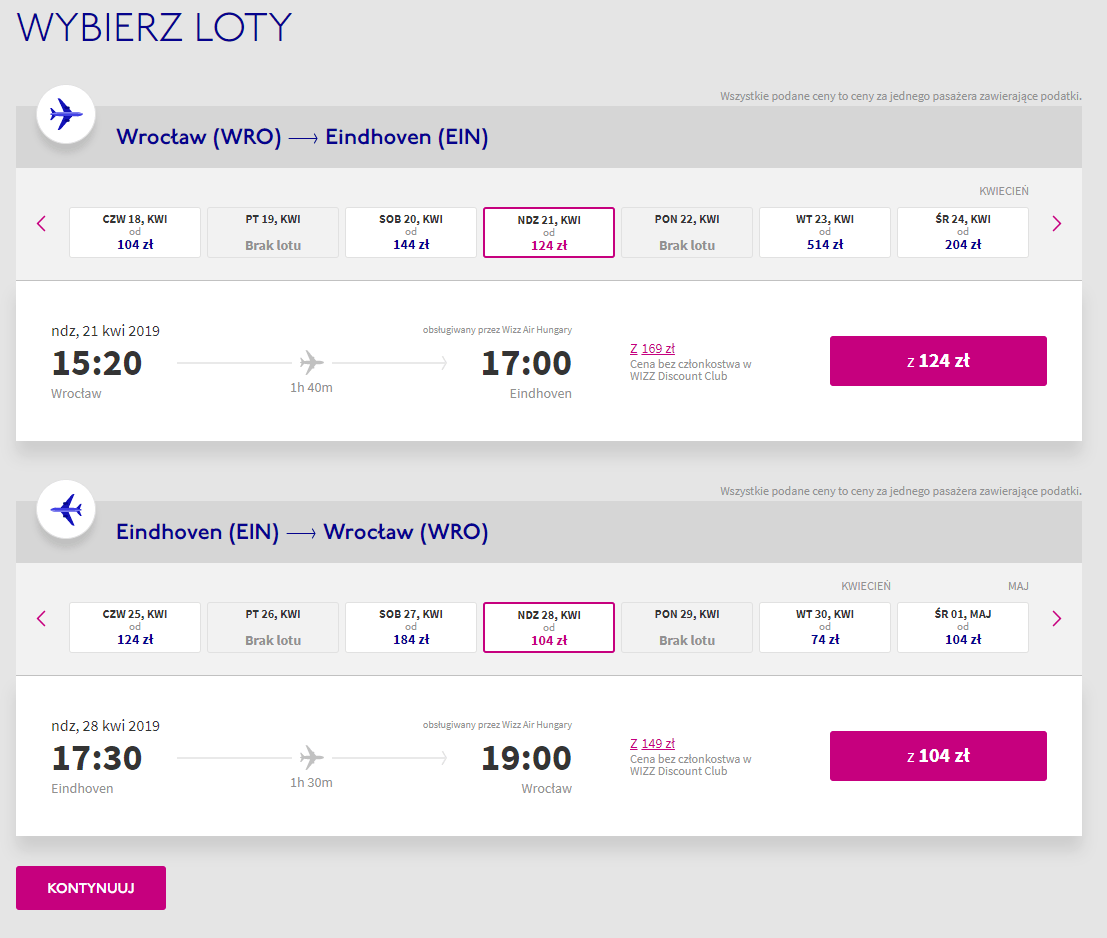 In step 1 of the booking, we choose a convenient flight date. We are immediately shown the prices before and after the discount – to take advantage of lower prices, just click on them to highlight them in pink.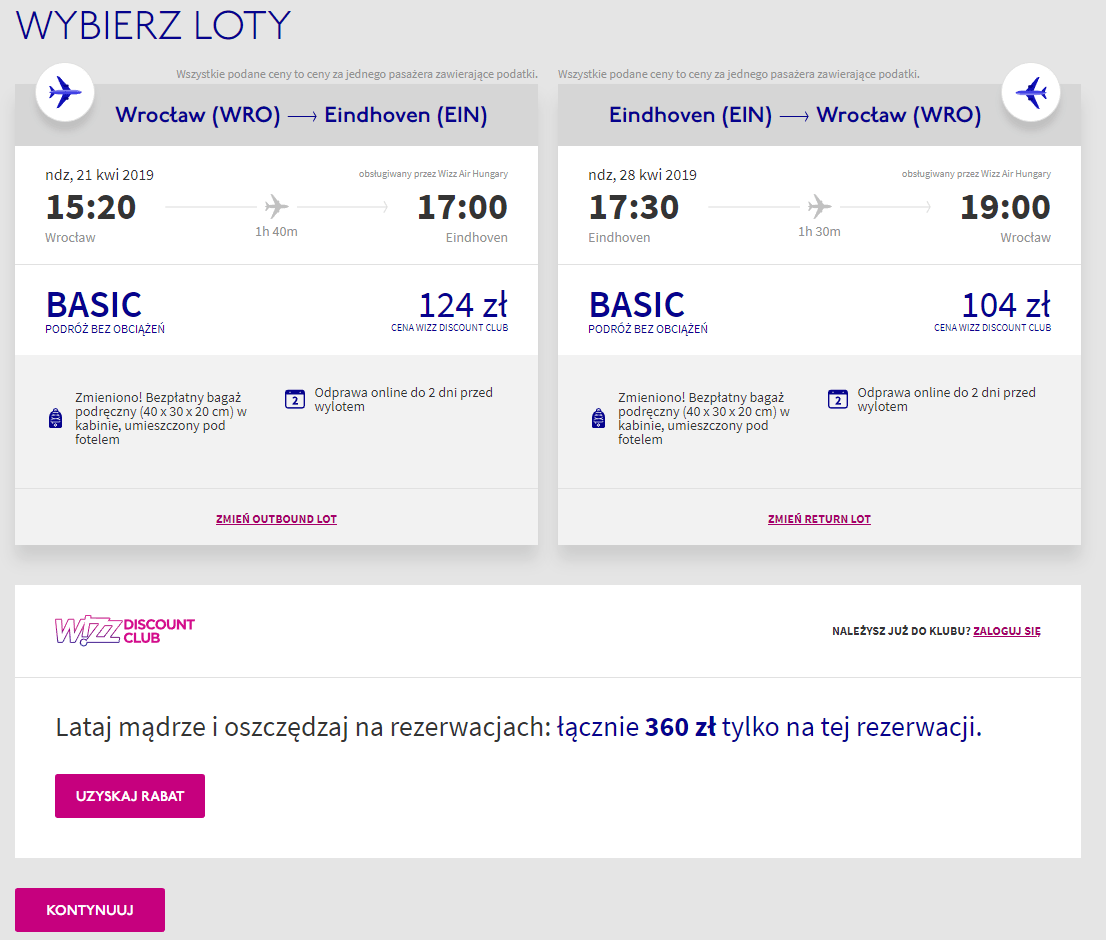 In step 2, the system will ask if you want to join the club and will display the price saved on the booking (of course, it does not add the membership amount). If you already have a membership account, you can log in here.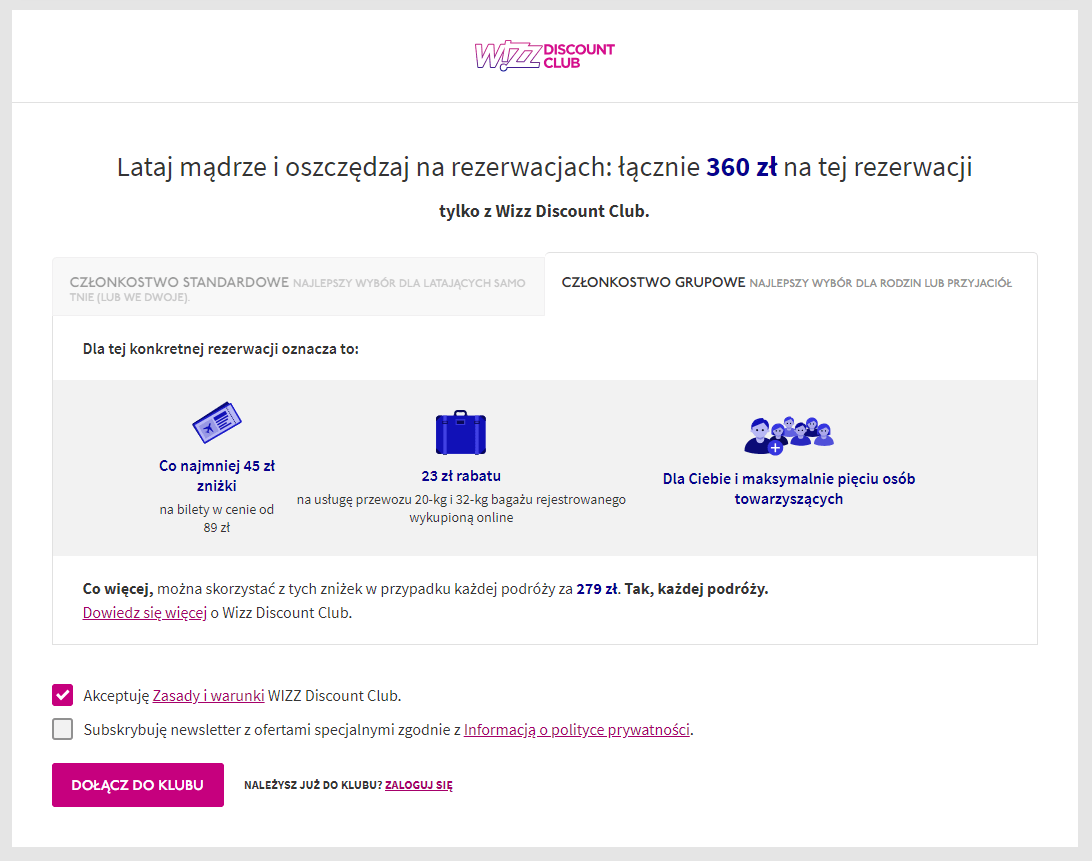 In step 3, we accept the terms of joining the program and choose the type of membership. Going smaller in this case is not possible as my show booking is for 4 people, but if we were only buying two tickets we have a choice. We can buy a membership for only two people or think about the next trips that we (maybe) want to go on with friends.
Is WizzDiscount Club cost-worthy?
For example, I chose the Wrocław – Eindhoven trip in April 2019 for four people. The price of an outbound trip is PLN 169 per person (total: PLN 676), and a return trip is PLN 149 (total: PLN 596). This gives a total of PLN 1,272.
If you buy a WizzDiscount membership, you pay PLN 124 per person for an outbound trip (total: PLN 496) and PLN 104 per person for a return trip (total: PLN 416). In addition, we buy WizzDiscount membership for PLN 279 (package for a participant + 5 companions). The total amount for this trip is PLN 1,191.
By purchasing the membership, we saved almost PLN 100, and remember that it is valid for one year and you can still travel with it. Membership is linked to the customer's account with WizzAir (necessary for travel). A WizzDiscount Club member must be one of the people traveling on the booking to be eligible for the promotion.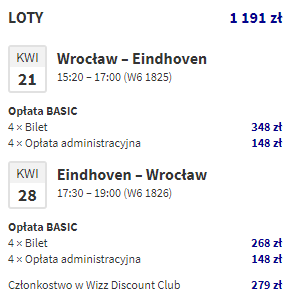 Take one more thing into account – I didn't choose any extra luggage here. If we had booked with luggage, the amount saved would have been even greater.
How do I use WizzDiscount Club?
The first trip was from Wrocław to London in October 2018. We flew in six and the tickets cost us 807 PLN both ways, including membership in the amount of 279 PLN. At the regular ticket price, we would pay 948 PLN. Later we bought priority boarding, so our savings increased even more.
But this is not the end of the money saved! On March 31, 2019 we flew to Porto. Here, for 4 people, we paid 712 PLN instead of 992 PLN at regular flight prices. And in May (extending the May weekend a bit) we decided to squeeze as much out of the membership as possible and booked a flight to Lviv, which cost us 552 PLN. At regular prices, it would be 912 PLN.
What are the other benefits of WizzDiscount Club membership? It obliges. It is true that it paid off for us already on the first trip and in principle we could skip flying, but … Why? Let the exchange with my mother be significant here:
-Oh no, we won't make it to London in October because our membership ends in August. We'll have to buy new ones, but then we'll have to fly again!
-And how will we survive it? 😀
(while writing this at 11:00 pm I forgot that it is the date of booking that counts, not the date of departure)
---
If you found this post useful, I will be glad if you share it with your friends. Maybe you will go on a journey together? The pennies you save will be honey to my heart, so let me know how your reservations are going. Broad flights! 🙂
[booking_product_helper shortname="wyszukiwarkadopasowujcasipl"]
Wyszukiwarka zawiera linki afiliacyjne Booking.com
Useful entries